IRANIAN IMMIGRANTS CAME FOR QUALITY OF LIFE, BOOSTED OC'S BUSINESS LANDSCAPE
Persian Tug
Saturday, August 17, 2013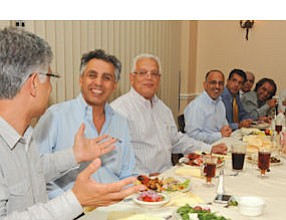 Immigration and corporate attorney Ali Farahmand is about to call the meeting to order.
The weekly gathering for the Strategic Business Group has drawn about 25 members of Orange County's closely knit Persian business community, representing a cross-section of professional services, from accountants and dentists to doctors and consultants.
New arrivals greet colleagues and friends as tomato-and-cucumber salad, mint leaves, flatbreads and cheese spreads are passed around the U-shaped set of tables in a side room at Caspian Restaurant in Irvine—a social center for the local Iranian-American community, which generally prefers the term Persian to signify its heritage.
Members of the Strategic Business Group provide updates on upcoming activities and referrals for potential business leads. The tips don't often translate into sales—the exercise is more about building relationships.
The group generates more than 500 referrals annually that are tracked through proprietary software, Farahmand says.
The group tallies the results at year-end, when a prize is awarded for the most referrals.
David Kanani begins a short seminar on financial planning, a requested topic, as dishes of soltani and other specialty stews are served.
Kanani, who runs a financial advisory in Irvine, came to the U.S. in September 1977, two years before the Iranian Revolution.
He never returned to live in Iran after leaving the war-torn country.
"The culture change was huge," Kanani says, referring to the breadth of opportunity the U.S. promised.
It's a sentiment shared by many of the Persians who've settled in Orange County, home to one of the largest concentrations of the ethnic group in the U.S.
200,000-Plus
So it's no wonder that Irvine is home to more than one business group for Persians. The Network of Iranian-American Professionals of Orange County, with more than 300 active members, also is based in the city.
Retired market researcher Hossein Hosseini estimates the Persian population in OC to be between 200,000 and 250,000, on par with the Vietnamese-American community that garners more attention and lays claim to the Little Saigon district as a geographic and cultural center.
Persians have no such physical center here, though they celebrate the annual Mehregan Persian Harvest Festival, which attracts thousands to the Orange County Fairgrounds each October for a two-day celebration of food, live music, costumes and games.
"I realized we were undercounted," says Hosseini, a statistician by trade who conducted his own study on Iranian-Americans in the U.S., using the 2010 census as a basis.
Prev Next