REAL ESTATE WATCH: ORANGE COUNTY CONSTRUCTION
Industrial, Office Lead Commercial Construction Comeback
Saturday, April 20, 2013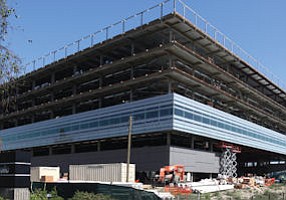 There were nearly 2.7 million square feet of commercial property under construction in Orange County at the end of the fourth quarter, with the industrial and office sectors leading the way and retail showing some signs of recovery.
Progress, Ways To Go
New construction had all but evaporated during the recent downturn, and it still has a way to go compared with prerecession levels. The amount of space under construction is still about 71% off the total for the fourth quarter of 2006.
The ongoing recovery has sparked demand for space, though, leading to the recent momentum.
The office market has three build-to-suit projects in the works that combine for nearly 1 million square feet.
A 380,000-square-foot headquarters for Pacific Investment Management Co. is nearly complete in Newport Center. The building is being developed by Newport Beach-based Irvine Company, and Pimco plans to move there early next year from a nearby building.
Hyundai Motor America is building a 469,000-square-foot facility to replace its longtime U.S. headquarters in Fountain Valley. The automaker is keeping temporary headquarters in Costa Mesa until its new building is ready, with a move-in date expected toward year-end.
Irvine-based Pacific Dental Services has a 139,386-square-foot headquarters under way. The building, previously an industrial property, is being refurbished and is expected to be complete by early next year.
The industrial sector had 1.2 million square feet under construction in the fourth quarter, the highest total since the first quarter of 2006.
North OC Projects
Both phases of the 864,794-square-foot Anaheim Concourse distribution center broke ground during the quarter. The third phase of Anaheim Concourse, planned at 807,530 square feet, is slated to break ground midyear.
Build-to-suits in North Orange County for CVS/pharmacy and RPM Transportation also broke ground in the fourth quarter, while an 84,350-square-foot manufacturing and warehousing building in Brea remained under construction.
The Source
Construction of retail space remains minimal, with one notable exception: A nearly 481,000-square-foot regional center called The Source broke ground in Buena Park in the fourth quarter.
The Source is the first major center to break ground in Orange County in about five years.
Other formerly active retail projects remain on hold or have been frozen indefinitely. Construction of the 191,000-square-foot Pacific City, a specialty center in Huntington Beach, halted in early 2010; it has yet to fully resume.
The retail sector saw some developments of small centers and single-tenant projects.
Data and analysis provided by CBRE Research.
---
The Real Estate Watch Chart
Net Absorption, Rates, etc. is provided in a Adobe Reader .pdf print-friendly file.