Midday Stock Roundup
Friday, April 19, 2013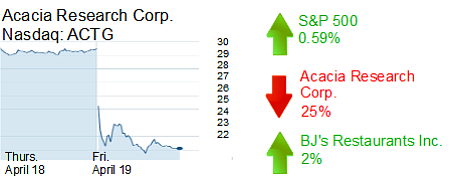 The S&P 500 rose 0.59% to 1,550.72 in midday trading Friday.
The Dow Jones industrial average was down 0.23% to 14,503.74, while the Nasdaq was up 1.09% to 3,200.94.
The yield on a 10-year Treasury bond rose 1.48% to 1.71%.
The price of gold was up 0.31% to $1,396.30 per ounce.
TECHNOLOGY
Newport Beach patent licensing company Acacia Research Corp.'s shares slumped 25% to $22.17, a day after the company reported a decline in first-quarter revenue and earnings from a year ago. Acacia had a recent market value of $1.1 billion.
REAL ESTATE
Irvine-based Standard Pacific Corp. rose about 4% to $8.15, with homebuilders' stocks trading up on Friday. Standard Pacific had a recent market value of $2.8 billion.
RESTAURANTS
Huntington Beach-based restaurant operator BJ's Restaurants Inc. rose about 2% to $32.22 for a market value of $906.36 million. Restaurant companies were generally mixed on Friday after McDonald's Corp. said it expects April global same-store sales to be "slightly negative." Meantime, Chipotle Mexican Grill Inc. reported better-than-expected first-quarter results on Thursday.

HEALTHCARE
Mission Viejo-based skilled nursing and urgent care facilities operators Ensign Group Inc. rose about 2% to $34.81 for a market value of $759.94 million. Ensign said the sale of urgent care franchise system Doctors Express Inc. to American Family Care Inc. was completed earlier this week. Terms of the sale were not disclosed.