Midday Stock Roundup
Thursday, April 18, 2013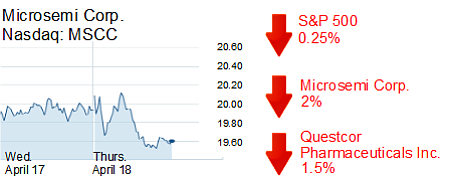 The S&P 500 fell 0.25% to 1,548.16 in afternoon trading Thursday.
The Dow Jones industrial average was off 0.19% to 14,590.85, while the Nasdaq was down 0.72% to 3,181.63.
The yield on a 10-year Treasury bond fell 0.65% to 1.69%.
The price of gold rose 0.33% to 1,386.70 per ounce.
REAL ESTATE
Irvine homebuilder Standard Pacific Corp. was down about 2% to $7.87 for a market value of $2.7 billion. Homebuilders were generally down in midday trading Thursday and have been lagging this week on mixed data released earlier in the week showing homebuilder confidence down even with better-than-expected housing starts in March.
TECHNOLOGY
Irvine-based disk drive maker Western Digital Corp. fell about 2% to $49.73 for a market value of $11.97 billion. An analyst report from Citigroup said shares of Western Digital and competitor Seagate Technology LLC of Cupertino are set to see a slowdown amid lackluster personal computer sales.
Aliso Viejo-based Microsemi Corp. was down about 2% for the second day in a row to $19.61. The chipmaker closed down about 2% on Wednesday and had a recent market value of $1.79 billion.
HEALTHCARE
Anaheim drug maker Questcor Pharmaceuticals Inc.'s shares were down about 1.5% to $27.75 with drug makers generally down on Thursday. Questcor had a recent market value of $1.6 billion.