REAL ESTATE: COUNCIL SEEKS NEW USES FOR OLD CITY HALL
Apartments or Hotels for Balboa Peninsula?
Sunday, September 16, 2012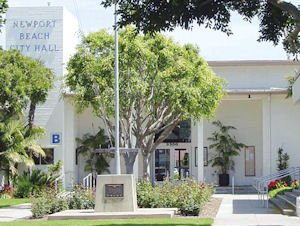 The Newport Beach City Council is expected to begin gauging developer interest in turning its current City Hall site in Lido Village into a boutique hotel or apartment project in the next couple of weeks.
The city is exploring new uses for the 4.3-acre site, located near the entrance of Balboa Peninsula at the intersection of Newport Boulevard and 32nd Street.
Buildings on the tract total about 54,000 square feet and include a fire station that would also make way for any new redevelopment.
A civic center is being built just off MacArthur Boulevard in Newport Center that will include a new City Hall. City officials are eager to ensure that redevelopment of the existing City Hall site moves ahead soon after they depart.
The estimated $128 million civic center project, which also includes a park and an expansion of the Newport Beach Central Library, is expected to be completed around the end of the year.
"This project is not going to wait for us," Councilman Rush Hill said. "We're moving out of here, and we need to do something to prevent this site from becoming [a] nuisance."
The city held a study session on reuse plans for the site last week and is expected to give the go-ahead for soliciting qualified developers following a Sept. 25 council meeting.
Two Uses
Plans now are focused on two potential uses for the land: an apartment project running as large as 99 units, or a boutique hotel running between 78 and 150 rooms. A request for qualifications from interested developers is expected to be sought for both types of projects.
An apartment project is expected to cost about $54 million to develop, while the hotel project is expected to run as much as $40.9 million, assuming a 120-room project.
City officials said earlier this year they'd like to select a developer for the Lido Village site by the end of the year.
Both the hotel and apartment uses are economically viable and will have a positive impact on the community, Kim Brandt, community development director for the city of Newport Beach, said at last week's hearing.
Managing the proposed projects' effects to the city's bottom line—along with the perceived benefits to the region at large—looks likely to require a delicate balancing act for the council.
The city is expected to maintain ownership of the property and require any developer to sign a long-term ground lease for the site.
Prev Next