YEAR'S RICHEST DEAL PRICED AT $487,000 PER APARTMENT
Essex Buys 50% Stake in Skyline Towers for $85M
Saturday, May 19, 2012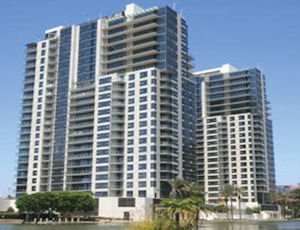 Vegas Sale
Irvine-based real estate investor CIP Real Estate has sold off a 114,500-square-foot building it owned in a Las Vegas business park to a gaming company that had been leasing the property.
Japan-based Konami Digital Entertainment Inc., whose North American operations are based in El Segundo, bought the building, located in Las Vegas' Hughes Airport Center business park.
Trade reports put the sale at about $18.3 million, or about $160 per square foot.
CIP owned the building in a venture with Newport Beach-based Buchanan Street Partners. The investor still owns or manages about 1.2 million square feet in the Hughes Airport Center.
In a pair of unrelated transactions, Costa Mesa-based boutique real estate advisory firm Talonvest Capital Inc. said it helped structure $13.8 million of financing for CIP on two business parks, in Riverside and Charlotte, N.C.
The 138,000-square-foot Riverside property, called the Summit Business Center, is set to get nearly $3 million worth of renovations, according to CIP, which bought the property last November of for $6.5 million.
Rental Deal
An affiliate of Newport Beach-based KBS Realty Advisors has paid $20.6 million for an apartment complex in South Carolina.
The company's KBS Legacy Partners Apartment REIT Inc., a non-traded real estate investment trust KBS operates with Foster City-based Legacy Partners, said this month it bought the 240-unit Crescent Park Apartment complex in Greer, S.C.
The sale works out to about $86,000 per apartment for the complex, which is four years old and 95% leased. The property totals 212,820 square feet and is on 27 acres of land.
The sale also includes a five-acre parcel of undeveloped land.
It's the fourth acquisition for the KBS-Legacy Partners venture, which now owns nearly 1,200 apartments in four states.
Prev Next