THAT'S THE PLAN ON NEWPORT CENTER HQ FOR BOND TRADER
Built by Irvine Company, Furnished by Pimco
Saturday, March 3, 2012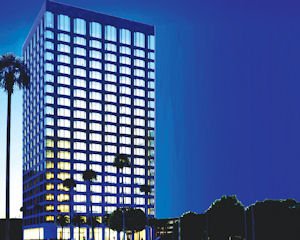 Details are starting to emerge on the most prominent office building to go up in Newport Beach in nearly 30 years.
The Business Journal got an early look at renderings of the 650 Newport Center Drive headquarters being built by Irvine Company for investment manager Pacific Investment Man-agement Co., both based in Newport Beach.
The 380,000-square-foot building could be Orange County's most valuable office once it is completed near the end of 2013, thanks to its high-profile Newport Center location and a lease that makes Pimco—the world's largest bond investor and part of Germany's Allianz SE — its only tenant.
Plans and renderings for the development had been in short supply even as construction got under way in earnest late last year.
The building, which now is seeing its steel frame go up, is being designed by architect Henry Cobb of New York-based Pei Cobb Freed & Partners, the firm behind design of the U.S. Bank Tower in Los Angeles.
It is Henry Cobb's first building in Newport Center, although the noted architect has ties to other properties owned by Irvine Co., including the 48-story Hyatt Center skyscraper in Chicago. He also is working on an Irvine Co. office planned in downtown San Diego.
Cobb has done work elsewhere in Orange County, including a 550,000-square-foot Irvine campus built for Los Angeles-based mutual fund manager Capital Group Cos.
The 650 Newport Center building's exterior won't stray too far from other Irvine Co. buildings in OC, based on the renderings.
Similarities The office counts similarities to the 20 Pacifica and 40 Pacifica offices built in the Irvine Spectrum during the last commercial real estate boom, as well as older complexes such as MacArthur Court in Newport Beach and Jamboree Center in Irvine. The exterior of the Pimco headquarters features Italian Roman Classico travertine and Chicago-style windows with recessed sidelights, according to Irvine Co. The design adds several more modern elements and features as part of its environmentally friendly standards, according to the developer. One example: It will include high-performance glass to make the most of daytime light for energy efficiency. The inside of the building is likely to be more in tune with the styles and needs of Pimco, which manages $1.2 trillion in investments for pension funds, insurers, corporations and others. The building's design includes an open-architecture floor plan that is slated to hold a multifloor auditorium, a broadcast studio and a trading facility that's likely to cover three floors. Irvine Co. is managing the construction of the building's shell and core. Pimco is responsible for tenant improvements for the project. The contractor for that job has not been disclosed.
2014 Move-In
The shell and core construction of the building is expected to finish by mid-2013, with tenant improvement work wrapping up later in the year. Pimco should be moving to the new building, located a few blocks from its current headquarters in Newport Center, in early 2014.
The project's total cost hasn't been disclosed.
Early reports placed a $60 million price tag on the office project, although a recent report from Burbank's Construction Industry Research Board listed a $66.5 million cost for the core portion of the development, not including an $18.8 million parking structure that's also going up.
Also not disclosed to date is the rent Pimco will be paying.
Brokerage sources not involved in the deal estimate the tenant could be paying monthly rents as high as $6 per square foot for the space, if not more.
Other Newport Center offices owned by Irvine Co. have rents as high as $5.25 per square foot.