IRVINE COMPANY BUY OF SAN JOSE OFFICE COMPLEX FROM LBA PUTS NORCAL PORTFOLIO NEAR 3 MILLION SF
Piece in the Valley
Saturday, June 30, 2012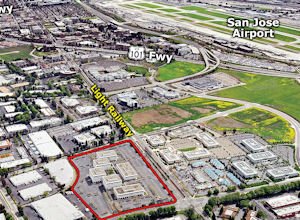 Silicon Valley is the strongest office market in California, with vacancy levels of about 7% for the area's best space, according to recent reports.
The six buildings at Silicon Valley Center have about a 10% vacancy rate, according to brokerage data.
Tenants include State Farm Insurance, Verizon Wireless and LG Electronics. Costa Mesa-based networking equipment maker Emulex Corp. has its local office at the campus, and Irvine-based executive suite operator Premier Business Centers also has a location on site.
Irvine Co. also has apartment development plans under way in Silicon Valley, where it currently has 11 complexes, according to the company's website.
It recently opened the first phase of Crescent Village, a 1,750-unit complex in north San Jose. It's the company's first new apartment complex in the area in several years.
Rents at the Crescent Village run $1,910 to $2,945 a month.
The deal for Silicon Valley Center is the second notable transaction involving Irvine Co. and LBA Realty of late.
Irvine Co. is in the early stages of turning a former parking lot near the headquarters of Western Digital Corp. into an upscale, 980-unit apartment complex at the Park Place mixed-use campus near John Wayne Airport.
Other LBA Deal
Irvine Co. last year paid $101.4 million to LBA—the owner of much of the Park Place campus in Irvine—and another company for the 14 acres of land and residential entitlement rights at the site, according to sources.
That works out to a price of about $7.2 million per acre, or roughly $103,000 for each apartment planned at the new complex, which is expected to be called Park Place Michelson Apartments.
Prev Next