HONOREE JUGGLES CHARITY WORK, REAL ESTATE SALES, TENNIS
Hard-Driver Says It's 'Not Really Moral' to Loaf
Saturday, June 16, 2012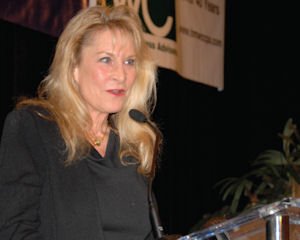 "I want a piece of the foreign buyers," Canaday said. "Re/Max is the perfect vehicle for that."
She also focuses on the short-sales segment through an office she maintains in Costa Mesa.
Canaday does all kinds of marketing, online and offline. She sells homes directly through her half-hour TV show that she's been doing since 1992 and which airs Saturday mornings on KDOC-TV.
"I was way before Flip that House," she said.

One of the things she's learned in her 30-plus years in real estate is to try to be prepared for the unexpected.
"The thing you learn is never to be surprised, and always to be prepared," she said.
Canaday supports several charities with time and money.
She was one of 12 women honored by Girl Scouts of Orange County last year and appeared as one of the dozen women in the Girl Scouts' keepsake calendar, which is unveiled at the Celebrate Leadership fundraiser each year.
She was also a presenting sponsor for the first annual ball of Susan G. Komen for the Cure Orange County, based in Costa Mesa.
She also supports United Way of Orange County's Women's Philanthropy Fund, whose members give more than $10,000 annually, and Chapman University. Canaday's daughter, Christa Lee Canaday, graduated from Chapman and now works in Canaday's Newport Beach office.
The amphitheater at Chapman is named after the Canaday family, as well as a graduate lounge. Canaday is on Chapman's board of counselors, an advisory board for the dean of the George L. Argyros School of Business and Economics.
Canaday said she's involved with charities because she wants to help.
"I feel so thankful for what I've been given that I want to give back," she said.
Prev Next