BANCROFT ALSO MENTORS FUTURE ATTORNEYS, LECTURES ON GOVERNANCE
Committed to Transactional Law, Little League
Saturday, June 16, 2012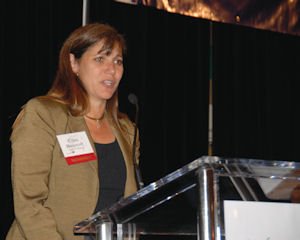 Bancroft has been recognized as a Southern California Super Lawyer for four years straight and has been on the list of Best Lawyers in America since 2007. She also was named Lawyer of the Year last year by Best Lawyers.
Her roster of companies stretches across the U.S., but many are based locally.
She has worked with Irvine-based Broadcom Corp. for many years through its initial public offering and follow-on investments.
"I've done quite a few acquisitions for them over the years," she said.
IPOs
Other transactions include initial public offerings for Aliso Viejo-based Internet shopping platform Buy.com Inc. and Mission Viejo-based nursing home operator Ensign Group Inc.
"I was also the underwriter for Volcom," Bancroft said. "For the first time, my daughter was excited about what I did."
Bancroft makes sure she finds time to spend with her 17-year-old daughter and 12-year-old son. Part of that is taking the early shift for volunteering at their schools and participating in sports activities.
"I'm the scorekeeper for my son's baseball game," she said. "That to me is the most fun part of the week."
She also is involved in the CEO Roundtable at University of California, Irvine, and OC United Way Women's Philanthropy Fund.
She also joined the board for Big Brothers Big Sisters, which has an Orange County office in Tustin.
Being on the board of directors has been a "great experience," said Bancroft, who advises the boards of many public and private businesses.
"I was on [Dorsey's] policy committee for the last six years, too," she said. "Sometimes you're looking at it from the outside in [when you advise boards]. But having that background, you know the dynamics and issues when you're in that position."
Prev Next