AASE'S FIRST JOB WAS TO SECURE OWN SALARY
Pay Day Play
Saturday, January 21, 2012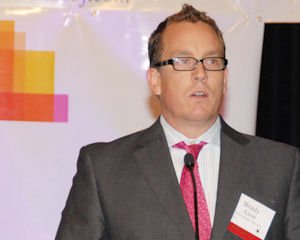 One of the first tasks handed to Brady Aase at Pacific Dental Services Inc. was as much personal as professional.
Founder and Chief Executive Stephen Thorne issued a challenge during a job interview, when Aase wondered how a small company operating in the red would be able to pay him if he landed a position.
"That's your first job—figure out how to save the company enough money to pay yourself," he told Aase, now chief financial officer of the Irvine-based dental practice manager.
Aase figured it out and then some, forging a record that landed him honors in the Private Company category at the CFO of the Year Awards presented on Jan. 17 by the Business Journal in association with the California Society of CPA's Orange County/Long Beach chapter.
Pacific builds and manages offices for dentists, offering services that take care of just about everything except the actual dentistry. It handles areas such as human resources, managed care contracting, billing and collections and buying supplies.
Aase, who has been with Pacific Dental since 1996, has seen the company grow from three offices and annual revenue of $3 million to more than 250 offices and yearly revenue of more than $400 million. His accomplishments also have included negotiating a $165 million syndicated credit facility with banks and overseeing the installation of enterprise resource planning software.
"What makes it so fun is that growth is fun," Aase said. "We've grown every year—we've never not grown, even during a bad economy. Nothing is ever stagnant."
Winning the award left Aase "shocked, surprised, very humbled. There were so many deserving folks who were nominated. … I was honored enough just to be nominated."
Role
Aase said his day-to-day role includes making sure Pacific Dental is performing in line with expectations Thorne set.
"Steve (Thorne) has been generally the visionary for what he wants this company to be and where he wants to take it," Aase said.
Important parts of being a CFO include making sure Pacific has access and "the right relationships and partnerships" to allow it to grow, according to Aase.
He cited Pacific's partnership with Irvine-based Quality Systems Inc., whose own chief financial officer was honored in the public company category (see story, page 1). Pacific has used Quality's dental practice management software since 1990.
Aase said he's also "tried to cultivate a lot of great relationships with banks, continually, whether they're in our syndicated credit or not. At some point, they might want to be."
Banking relationships are important to Pacific because the company has grown organically rather than taking on outside investors or private equity partners.
Discipline
That's required financial and operating discipline, according to Aase.
"You can't overgrow too quickly," he said. "You've got to be a little bit methodical about it because you can't over-leverage the organization."
Aase said that, while Pacific does not publicly report financial results or answer to Wall Street investors, the company still has "expectations and hold ourselves to a high standard of meeting those numbers."
He gave credit to his team, which includes some 20 to 25 people in accounting and finance.
Giving Credit
"It's all about them—they absolutely let me focus on what I'm good at," he said. "The controller's great on managing 500-plus legal taxable entities" that make up the roster of offices Pacific Dental manages.
Aase, a married father of three, is an alumnus of the University of California, Santa Barbara. He holds a bachelor's degree in business economics with an emphasis in accounting and finance.
He served in several jobs before taking the chief financial officer's title and duties, including controller, director of accounting operations and vice president of finance. n