FOLLOWS BUY IN SUNNYVALE; APARTMENTS IN SAN JOSE?
Irvine Company Plans Office Campus in Silicon Valley
Sunday, November 6, 2011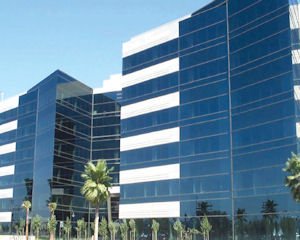 The price is about $32.2 million, or roughly $245,000 per unit, according to Ray Eldridge, senior vice president for the Newport Beach office of CBRE Group Inc., who was part of the team selling the complex.
Eldridge also helped broker October's $95.4 million sale of San Clemente's Seacrest Apartment Homes, OC's priciest apartment sale of the year so far.
Jacaranda was sold by Houston-based Morgan Group, which completed construction of the project last year.
The complex is restricted to residents 55 and older. As of June, Jacaranda was about 60% full, according to marketing materials.
Apartments at the complex—located on the south side of Rosecrans Avenue between Euclid Street and Parks Road—average about 1,000 square feet.
Stadium Gateway in Play
Anaheim's Stadium Gateway should be going back on the sales block soon.
In late August, I wrote about Charter Hall Office REIT, an Australian property trust, buying an 80% stake in Stadium Gateway, a six-story, 274,000-square-foot office at 1900 S. State College Blvd., just west of Angel Stadium.
Los Angeles-based MPG Office Trust Inc. owns the other 20% stake in the office.
Charter Hall bought its interest in Stadium Gateway from fellow Australian investor Macquarie Office Trust, as part of a 13-building, 4.9-million-square-foot portfolio that traded hands for about $1.7 billion.
That deal valued Stadium Gateway at about $64.7 million, making the sale the priciest office deal in OC for the third quarter, according to data from Newport Beach-based brokerage Voit Real Estate Co.
Last week, MPG announced it had entered into an agreement regarding plans by Charter Hall to sell off portions of its recently acquired portfolio to affiliates of Boston-based Beacon Capital Partners LLC.
The agreement calls for MPG, Charter Hall and Beacon to put Stadium Gateway up for sale to third parties, starting in the next two weeks. A sale price for the Anaheim office, which is about 73% leased, has not been proposed.
Prev Next