REAL ESTATE: O'DONNELL TO PUT UP 1.2M SQ. FT. OF INDUSTRIAL
Developer Readies 64-Acre Inland Empire Project
Sunday, May 22, 2011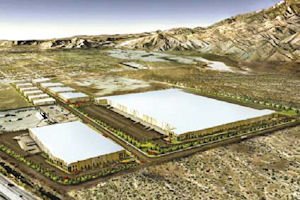 Newport Beach-based real estate developer and property manager O'Donnell Group Inc. has started work on a massive industrial development in the Inland Empire.
The company said this month it is moving ahead with construction for Banning Industrial Park, a 64-acre complex in Riverside County's Banning, just off Interstate 10 near the 60 freeway.
The project, about 20 miles from Palm Springs, is set to include 12 buildings totaling more than 1.2 million square feet. The largest building is slated to be 786,000 square feet.
The project stands to be the largest industrial development in the Inland Empire this year.
Banning Industrial Park's main warehouse also would be the largest new building the sprawling region's improving industrial market has seen in a few years, according to local brokerage data.
Grading for Banning Industrial Park is under way and should be completed toward the end of summer, with construction starting in the fourth quarter, Chief Executive Douglas O'Donnell said.
No tenants have been signed to lease any of the buildings yet. Construction is set to start on a speculative basis, O'Donnell said.
Brokers with the Ontario office of CB Richard Ellis Group Inc. have the listing for the project.
Target Tenants
The developer expects the project to serve as a logistics hub for major regional distributors, especially those serving Arizona and Las Vegas.
The buildings are being offered for lease or sale. Prices haven't been disclosed yet.
Banning Industrial Park is set to be the first industrial development O'Donnell has worked on since it completed a nearly 200,000-square-foot Anaheim project in 2002.
The company pulled back from development as the market peaked and eventually crashed. During the downturn, it bought some developable land, including the Banning property.
O'Donnell paid just less than $7 million in late 2006 for the Banning land, which could hold up to 2.6 million square feet of industrial space, according to filings with the Securities and Exchange Commission.
The company and its partners paid about $30 million for undeveloped land from 2004 to 2007, including a $6.6 million deal in Costa Mesa, according to regulatory filings.
One of those properties, a Riverside land site eyed for housing development, went back to its lender in 2008.
O'Donnell hasn't made any other land purchases since then, according to filings.
The company started working on entitlements for the Banning project about three years ago.
Prices for stable, full buildings in the area have seen a big uptick this year. Deals in the region now are closing with capitalization rates—or expected initial returns from rents—of less than 6%, according to CB Richard Ellis.
Prev Next