NEW BOSS: MARKETING KEY TO ENDING BIG SOFTWARE MAKER'S SLUMP
Sage Coach
Sunday, May 15, 2011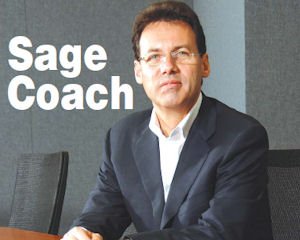 He's already zeroed in on a key challenge.
"(Customers) don't know the Sage brand and they don't know what the Sage brand stands for," Houillon said.
The company began rebranding its products a few years ago, making the Sage name more prominent on products, packaging and collateral material.
Campaign
Houillon plans to continue the emphasis with an aggressive branding campaign in the next three to six months.
He expects it will take several years to build the sort of awareness he'd like to see in the marketplace.
The company plans to advertise through various media and lean heavily on its resellers to tout the message.
"It's the main way for us to really increase Sage awareness," he said.
Houillon was little known at the North American headquarters when he took the top job in March. He recently provided a glimpse into his management style as he talked about his vision for the company.
"I'm much better at leading people than managing people," said Houillon who traded a home in downtown Paris for an ocean view home in Laguna Niguel. "I don't want to micromanage."
Career
Houillon began his career as a systems analyst for French insurer Union des Assurances De Paris, now part of AXA.
He cofounded and ran a software company targeting small and midsize businesses before joining Sage as a salesman in 1989.
Houillon's held a number of management positions, rising to chief executive of Sage France in 1997. He went on to add oversight of Southern Europe as well as operations in Belgium, Brazil, Switzerland and Morocco.
He arrived in Irvine as part of the North American division's third management shift in as many years.
He follows Sue Swenson, who took the top job here in 2008. She replaced Ron Verni, who led the North American division from Atlanta and was ousted by Sage's British board. The board dismissed chief financial officer Jim Eckstaedt at the same time.
Swenson is an industry veteran and was one of the highest ranking females in the county's technology sector as head of Sage.
The company recruited her to rework its sprawling operations in the U.S., which includes several large operating units all over the country.
Swenson tapped a number of new executives and created spots for a technology chief, a finance chief and a vice president to oversee resellers.
Her handoff to Houillon marks a significant shift for Sage.
"It's probably the first time we have had a really thoughtful transition plan," Swenson told the Business Journal in an earlier interview. "That means we are growing up."
Houillon's hire is a clear signal that Sage plans to promote from its own ranks.
"Sage is really committed to developing its global talent," Swenson said. "We hadn't done much of that previously."
Swenson cleared the decks for Houillon by guiding a consolidation of some 20 acquisitions Sage had made during the past decade. Hundreds of jobs were cut, and the company relocated its local operations to a smaller space within the Irvine Spectrum.
"I don't plan to do any downsizing now," Houillon said. "Our problem today is to get the right people to get the company to grow again."
That means new hires.
The company has about 200 open positions in North America, where it employs more than 3,500. It has 369 OC employees.
Buying other companies will come later.
"Acquisitions are part of the Sage business model," Houillon said. "It's the way we developed our business. Our last buy was in 2006 but it's on my agenda."
Prev Next