ONLY LOCAL BUILDING IN CHARTER HALL-BEACON DEAL
MPG's Stadium Gateway Part of $1.7B Portfolio Sale
Sunday, August 28, 2011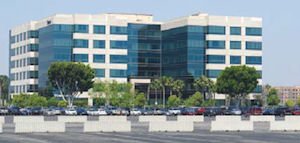 Inland's project is expected to hold some 1,100 rooms for student housing, along with 30,000 square feet of retail.
Brokers with Fullerton-based Vanguard Commercial have the listing for the retail portion of the development, which is expected to open by mid-2013.
Shops and restaurants are expected to run from 1,000 square feet to 5,500 square feet at the development, according to marketing plans. Rents are listed from $2.50 to $3.50 per square feet.
Brokers note there are seven colleges and high schools in about a 1-mile radius of the project, including Cal State Fullerton, and say there's already been interest from national brands as well as local operators.
Beaumont Buy
Aliso Viejo-based CT Realty Investors Inc. has snapped up another large industrial building in the Inland Empire.
The real estate investor said earlier this month it bought the Dowling Orchard Business Park, a two-building warehouse in Beaumont near the intersection of the Moreno Valley (60) Freeway and Redlands (10) Freeway.
The buildings total 572,143 square feet; the sale included the purchase of 30 acres of land entitled for a 611,000-square-foot building.

The building was sold by a unit of Atlanta-based Oakmont Industrial Group, which has a local office in Irvine.
Oakmont built the project in 2008 to environmentally friendly standards. Construction was handled by Brea-based KPRS Construction Services Inc.
Terms of the sale weren't disclosed, but the buildings traded "well below replacement cost, in keeping with our opportunistic investment strategy," according to Carter Ewing, executive vice president of CT Realty. It was an all-cash deal and closed in less than 60 days, according to the buyers.
Assuming the remaining 611,000 square feet of development is completed, CT Realty said it would look at leasing or selling the property to a single user.
The investor has bought nearly 4 million square feet of industrial buildings in the Inland Empire in the past year.
Prev Next