CSUF's New Biz School Dean Aims for Innovation
EDUCATION: SUNDARAM SEEKS 'LIFE-CHANGING' IMPACT
Monday, August 30, 2021
Share this article: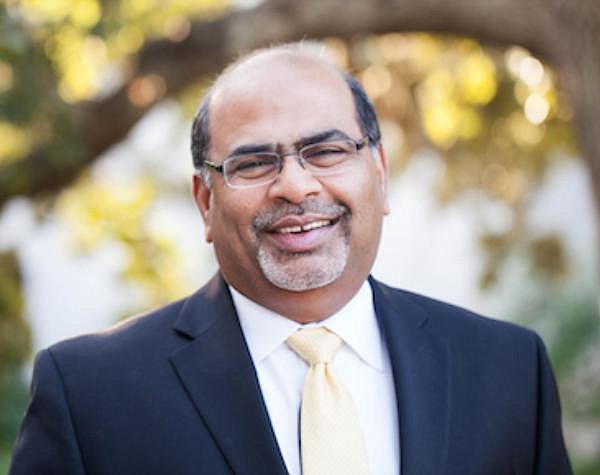 Innovative programs. Impactful scholarship. Intentional engagement.

These are Sridhar Sundaram's three Is, which he said will guide his vision as dean of California State University, Fullerton's College of Business and Economics.

He assumed his new role at the largest business school in California on July 15.

"Sridhar is an experienced academic leader with a proven ability to facilitate student and faculty success," CSUF Vice President of academic affairs Carolyn Thomas said in a statement. "I can't wait to see him working with CBE's strong college leadership team to build the next stage of their legacy."

Sundaram said he will emphasize academic innovation, high-impact research and strong connections to the business community in his new role at CSUF.

"I see the impact we can have on this large and diverse student body and it's life-changing," Sundaram told the Business Journal.

He said he will also focus on providing the best education to all incoming students, including first-time college students and transfer students coming from community colleges.

In-Person Return

Sundaram takes over the dean's role from Morteza Rahmatian, who had served in the role, initially on an interim basis, since 2016. Rahmatian is returning to the classroom to teach economics at the school, which recently welcomed back students in an in-person setting for the fall semester, after an 18-month hiatus.

All CSU faculty, staff and students in the state must either be fully immunized or receive an approved exemption before returning to any campus facility.

CSUF said there will be on-site vaccination clinics and COVID-19 testing at its campus. There is extensive cleaning and sanitizing of spaces throughout the campus and upgraded high-capacity air filtration, it said.

CSUF's College of Business and Economics is the largest accredited business school on the West Coast and the fifth largest in the United States. It offers a range of business classes to some 9,000 students.

It holds two AACSB accreditations: one for its business program and another for its accounting program.

"I am truly excited about the opportunity to lead the College of Business and Economics to its next level of development and excellence," Sundaram said.

Name Change

His appointment is the latest notable change for the business school, which counts more than 65,000 alumni.

Last year, the school cut ties with alumni and former major donor Steve Mihaylo, whose name had adorned its business school.

The school said at the time that the telecom exec sought a business contract in exchange for further donations.

Mihaylo told the Business Journal last September that the university's claims were "false" and "misleading." He also said the university was "stifling free speech" by disallowing many conservative speakers to come to campus.

The school disputes those accusations and cited $22 million in unfulfilled philanthropic commitments from Mihaylo as the reason it removed his name from the school, although a building at the Fullerton campus still bears his name.

Record Gift

CSUF's It Takes a Titan campaign, launched in early 2020 prior to the pandemic, aims to bring in some $200 million in philanthropic support over seven years.

It raised $37 million in the 2020 fiscal year ending in July 2020. Last fiscal year's totals haven't been disclosed, but will be higher than the prior year.

CSUF in June announced a $40 million gift, its largest donation ever, from MacKenzie Scott and her husband, Dan Jewett.

Scott is the ex-wife of Amazon's Jeff Bezos.

Sundaram's LinkedIn bio notes his skill set includes new program development, community engagement and fundraising.

Pandemic Research

Sundaram's career in higher education began over 30 years ago.

Before coming to CSUF, Sundaram served as the Tiedemann-Cotton Dean of the Kate Tiedemann School of Business and Finance and campus dean for the Muma College of Business, both at the University of South Florida.

Sundaram holds bachelor's and master's degrees in accounting from the P.S.G. College of Arts and Science in India.

From Southern Illinois University, Carbondale, he earned an MBA and a doctorate in finance.

His research on banking regulatory effects and asset pricing has been published in the Journal of Banking and Finance, the Journal of Quantitative and Financial Analysis and the Financial Review.

Recent research has included the impact of the pandemic on minority-owned microbusinesses, with an emphasis on studying the effectiveness of proposed federal, state and local policies on these businesses.