Nano Banc Triples Headquarters Space
REAL ESTATE: NEARS $1B IN ASSETS
Wednesday, October 7, 2020
Share this article: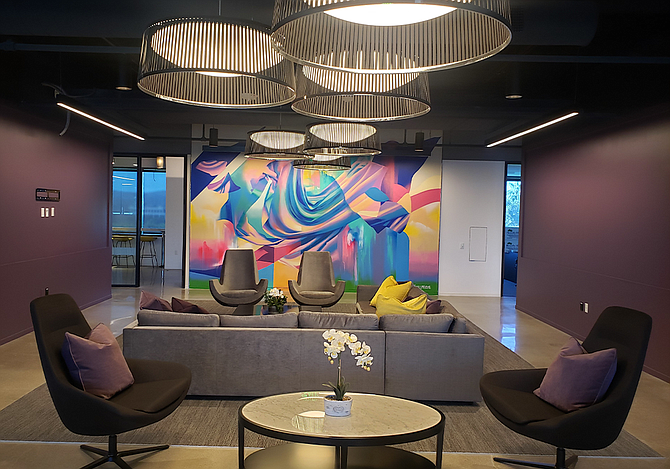 There's no slowdown in sight for Nano Banc, Orange County's newest and fastest-growing bank.
After several years of internal company gains, the company inked a lease for new headquarters that's about three times the size of its previous spot.
The company last week moved into the entire third floor of the newly renovated 7755 Irvine Center Drive, a 126,000-square-foot building along the Santa Ana (5) Freeway in the Spectrum area of the city that will accommodate current and future expansion plans.
The Nano Banc office and bank branch, running some 22,000 square feet, will initially house about 70 employees and could eventually hold several hundred as the bank continues to ramp up its client and investment base.
"We've seen such strong growth since we started," co-founder and President Mark Troncale told the Business Journal. "Even during the pandemic, we maintained our client base and did not see the impacts that other companies did."
Gains
The company has grown from no assets in 2018 when it was founded, to $815 million at the end of 2019. It plans to edge close to $1 billion by the end of this year.
Troncale, a former executive at California Republic Bank, founded the firm along with Chief Executive Mark Rebal and Anthony Gressak. The other two co-founders also count a history with California Republic, which was founded in 2007 and acquired for $330 million by Mechanics Bank in 2016.
"We started the business in an office the size of a bedroom, with all three of us in the same room," Troncale said.
In 2017, the three co-founders raised $71.7 million in equity capital to acquire commercial banks in Southern California.
In May 2018, they bought Commerce Bank of Temecula Valley for $23.3 million and renamed it Nano Banc. At that time, the bank had $60 million in loans and deposits.
Nano Banc is building its own software and hardware platform and has patents pending, with plans to license the technology to other community banks.
"Today, our safe is our technology and how we're protecting our deposits. We have a high emphasis on security," Troncale told the Business Journal earlier this year. "Banks need to be leading that conversation and not following technology companies."
Billion-Dollar Biz
Nano Banc is the 29th largest bank in Orange County, reporting $611.4 million in OC deposits as of last June, according to Business Journal research.
It's a few weeks into its second investment round, with plans to raise $100 million by the end of next year, "which will get us past the $1 billion mark," Troncale said last week.
The new office and bank branch—which includes the now-standard Plexiglass dividers and hand sanitizing stations—will serve as a representation for the company's new direction as a larger firm.
"We are developing our foundation as we grow into the next level, and solidify our business procedures and policies," Troncale said.
"A billion-dollar company operates a lot differently than a $100 million company. Everyone is really excited about the new space and celebrating the new season of the company."