RETAIL: INVESTOR, BOARD MEMBER AT $1B FIRM
Augie Nieto's Return: Back to Life Fitness
Monday, January 6, 2020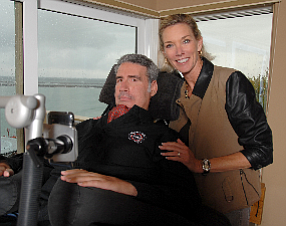 Augie Nieto's essential work in combatting amyotrophic lateral sclerosis (ALS), through his namesake Augie's Quest to Cure ALS, would be more than enough for the fitness industry icon's inclusion in our Business People of the Year edition just about any year.
It was a return to his business roots, though, that gave one of Orange County's most inspiring business execs this year's nod for Business Person of the Year in the retail sector.
In July, Life Fitness, a Rosemont, Ill.-based maker of products for gyms and health clubs, brought back Nieto — who founded the firm in the 1970s, and ran the company for decades — as an investor and board member, as part of a corporate overhaul of the company that does $1 billion in sales annually.
"We are thrilled to bring Augie back as an investor and a strategic partner," said Jay Bernstein, a partner at KPS Capital Partners, an investment firm that took over as majority shareholder at Life Fitness in July.
"His experience and vision will help Life Fitness build on its leadership position and drive forward its legacy of being a strong, focused, and innovative global market leader."
KPS Capital last May paid $490 million to buy Life Fitness from Mettawa, Il.-based Brunswick Corp. (NYSE: BC), according to regulatory filings. Nieto's stake in the new ownership team wasn't disclosed.
The product line of Life Fitness includes a variety of cardio, strength training and other offerings under the brands Life Fitness, Hammer Strength, Cybex, Indoor Cycling Group, SCIFIT and Brunswick Billiards.
2016 Visit
Neito served as president of Life Fitness from 1977 to 2000, and "helped transform the company from a single-product business to a market leader in the commercial fitness equipment industry," noted a story last year in trade publication Club Industry.
He stepped down from the firm in 2000, a few years after it was sold to Brunswick.
In 2005, he was diagnosed with ALS, a muscle-wasting condition more commonly known as Lou Gehrig's Disease.
Since then, he and his wife, Lynne, launched and have overseen Augie's Quest, which has raised more than $165 million to fund research to find a cure for ALS.
While medical issues now confine Nieto to a motorized wheelchair that allows him to communicate via computer, ALS hasn't stopped the business dealings of the Corona del Mar resident.
In 2016, he visited the Illinois factory of Life Fitness for the first time in over a decade; the trip was part of the California Coast Gold Chapter of the Young President's Organization forum in Chicago.
Prev Next