MANUFACTURING: NEW PRODUCTS, EUROPE FACILITY
Green is Good for Cleaning Product Company
Wednesday, May 29, 2019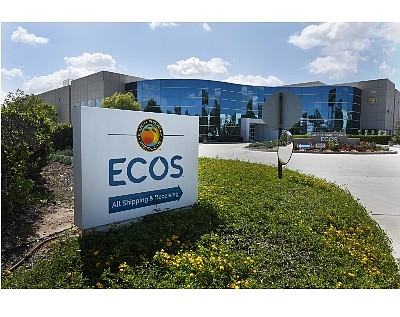 Earth Friendly Products continues to see green from being environmentally friendly.
The Cypress-based manufacturer of plant-based cleaning products, known as ECOS, had double-digit sales growth for its products the past few years—outpacing the traditional and green cleaning products category—while expanding its retail presence to an additional 3,300 stores last year.
It opened a manufacturing facility in Greece last year to meet international demand and lower shipping costs reducing its carbon footprint.
Chief Executive and President Kelly Vlahakis-Hanks said the company's growth is largely due to increasing consumer interest in using green cleaning products.
"When I was calling on retailers in the early 2000s, people were like, 'Oh, what are green cleaners?' and really not interested in bringing it in [the store]," Vlahakis-Hanks said. "Times have changed so much."
The ECOS line of over 200 products—from dish soap, treeless paper towels, window cleaners and furniture polish—are carried in more than 81,000 stores in 60 countries through major retailers including Walmart, Whole Foods, Target, Costco and supermarket chains such as Vons, Ralphs and Anaheim-based Northgate Market.
Roughly 20% of the company's business involves private label contracts.
Last month, it expanded its partnership with Walt Disney Co. to introduce a line of pet products, in addition to its baby-safe Disney ECOS line. Later this year, the company will introduce an EPA-certified disinfectant to serve commercial accounts like hospitals, with waterless products and packaging that utilizes about 60% less plastic.
A 2018 survey from Nielsen found "younger shoppers are more than twice as likely to make choices based on environmental impact" and are willing to spend more than baby boomers on organic or natural products.
That's something Vlahakis-Hanks has already witnessed, pointing to sales of its laundry category which grew 17% last year, while the overall U.S. green laundry market saw sales rise 15% and traditional laundry climb by 2%. She added that sales of its dish soap and all-purpose cleaner increased 10% and 21%, respectively, while both categories reported a 3% growth in 2018.
Specific sales figures haven't been disclosed by the company, which operates out of a nearly 125,000-square-foot facility near the intersection of Katella Avenue and Valley View Street.
"We're seeing the demand increase across the board," she said. "All of our manufacturing facilities have room to double or triple our production. So I've set the stage for growth here by making sure we moved into facilities where we could handle a lot more business because I believe a lot more business is coming."
Prev Next