Irving "Papa" Gelman Dies
Monday, March 5, 2018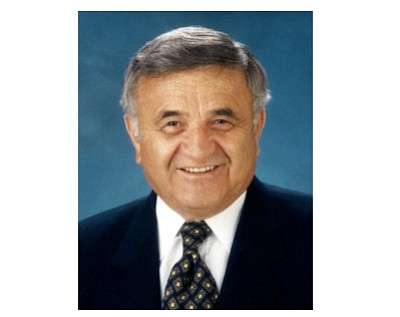 Irving "Papa" Gelman Dies
Irving "Papa" Gelman, the man who founded Orange County's only independent Jewish day school, Tarbut V' Torah (TVT), has died. Gelman passed away at his home in Irvine on Sunday. He turned 94 on January 24.
Gelman was a Holocaust survivor, his parents, sister and future wife Rochelle having hid under a barn for 16 months, before being liberated by Russian soldiers in 1944. In the Polish town of Hohst, population 1,500, only 18 survived. Gelman and his family were five of the 18.
Irving Gelman came to the U.S. in 1947 with $5.60, and became a successful businessman, owning a textile company on the East Coast. He named his first company Domka, Inc. after the Ukranian woman who hid Gelman's family on her farm.
Gelman then moved to California, starting TVT in Costa Mesa, before it relocated to its current 21-acre campus in Irvine in 1997. The Blue Ribbon School is one of the largest Jewish day schools in the nation. According to the TVT website, students who attended were "greeted by "Papa" Gelman [with] big hugs and warm heart."
Gelman's son-in-law Lou Weiss told the Business Journal that "For Irving, 'impossible' simply meant that you had to work harder."
Funeral services will take place Tuesday at TVT's upper campus sports field at 11 am.