Southwest Could See More JWA Cuts
Monday, October 16, 2017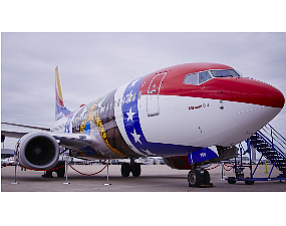 Southwest Airlines will see a second year of passenger cuts at John Wayne Airport if county supervisors approve the airport's 2018 seat allocation request Tuesday.
Southwest is likely to remain the facility's largest carrier by passenger volume but it's percentage of traffic looks to decline from about 45% to about 35%.
Where in the past it had surpassed its nearest competitor by a margin of 3-to-1 in seat allocations, in 2018 it will top the recipient of the next-largest allocation, American Airlines, by about 2-to-1.
The airport's annual proposal for the maximum number of seats each airline can fill in 2018 calls for Southwest to get about 4.45 million.
This is down from last year's 5.1 million allocation — which itself was a decline from about 6 million offered in 2016.
Airline seat allocations in total are set higher than the county-owned airport's passenger cap because planes overall don't fly full.
Passenger traffic at the airport is currently capped at 10.8 million a year. The proposed 2018 seat allocation across all commercial carriers is 12.65 million.
2017's total seat allocation was 12.74 million.
Southwest's seats in 2017 and in the 2018 proposal are being distributed among other John Wayne Airport carriers — mainly Alaska and Delta.
The airport's proposal for American Airlines in 2018 is 2.1 million; the Alaska-Horizon group is scheduled for 1.96 million; Delta-Compass will get 1.82 million, if supervisors OK the airport's numbers.
American was allocated 2.1 million in 2017; Alaska-Horizon was given 1.62 million; Delta-Compass got 1.57 million.