Fifi Chao
Executive Dining Reporter
Fifi Chao is a chef, lecturer, author, educator, radio personality and publisher of Chao's Dinesty, a private subscription restaurant, wine and travel newsletter. She has been reviewing local restaurants for the Business Journal since 1990.
Recent Stories
Aqua Lounge, Oak Grill Menus Focus on Healthy
During the past two years, Island Hotel has made some tremendously good-looking changes in its Aqua Lounge and Oak Grill dining rooms. There's also a new chef on board whose food pleased us very much in recent tastes.
Meanwhile, New and Old Everyday Spots Entice Us
This Thursday, one of summer's most exciting culinary events will take place: a Friends of James Beard Benefit dinner at Vaca, the fascinating Spanish-inspired restaurant in South Coast Metro's arts district in Costa Mesa.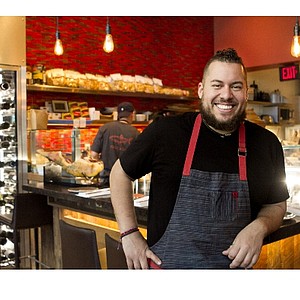 In Most Every Town, But Hop In the Car For More
For some reason, I recently had the thought that Orange County has a knot in its britches about who and what we are in the culinary psyche. People will not leave their hometown enclaves to experience things across the county. No wonder the jammed traffic saps the adventurous spirit to try what's new.
Esteemed Chef-Owner On to Fla. After 37 Years
You'll be sad to hear that Alan Greeley, a chef held in the highest regard by his peers, is selling his Golden Truffle restaurant in Costa Mesa after 37 years.
Porchetta, Hot Pots And Memorable Italian Shine
Hendrix at Laguna Niguel's Ocean Ranch Village is brand-new, good-looking, very energetic and delicious.
Plenty of Changes On OC's Dining Menu
The freeway of restaurant openings, closings and moves is staying busy with lots of traffic.
Fifi Tours OC's Under-The- Radar Ethnic Restaurants
Orange County keeps getting richer and richer with dining possibilities. We are lucky to have so many family-owned, individual places interspersed with the big, fancy restaurants.
Sushi Master Lives To Delight With His Creations
This is a story of a little boy in Japan who knew what he wanted to be when he grew up, and us food lovers are all the better for it.
Pascal Lorange Crudo To Ex-Pinot Provence Spot
The French food at Pinot Provence hit a graceful note when the restaurant opened many years ago in the Westin Hotel in Costa Mesa, but the truly French decor probably got as much publicity as the Gallic food.
New Vietnamese Eatery Fresh Fifi Favorite
This is the month when I look back at the past year, remember the best dishes, and look forward to the broad restaurant scene that is ever changing. There were many superb meals, and a lot of interesting restaurants visited.