REAL ESTATE
Recent and archived news stories on: Apartments, Architecture, Brokers, Construction, Housing, Mortgages, Offices, Property Management, Realtors...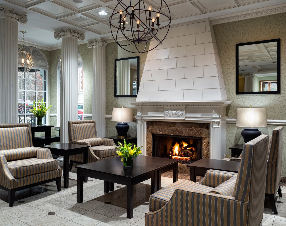 Anaheim-based independent hotel developer and manager BroughtonHotels completed renovations on its three Chicago boutique hotels.
February 27, 2014 9:57 a.m.
Share
Irvine-based Auction.com, an online real estate auction company, said it will receive a $50 million investment from Google Capital, an investment arm of the Internet giant.
REAL ESTATE: Deal for Santa Ana towers pegged at nearly $130M
The office division of private equity giant Blackstone Group is poised to become one of the two largest landlords in the South Coast Metro business district, based on an impending deal for the Griffin Towers office complex in Santa Ana.
REAL ESTATE: Irvine Company to redo 2 of 5 Spectrum buildings
A portion of the regional headquarters of Verizon Wireless in the Irvine Spectrum will be converted into a multitenant office park, a result of the telecom's recent decision to trim its local head count by more than 40%.
Jay Burress had a lot of good news to go over on his first full year as president and CEO of the Anaheim/Orange County Visitor & Convention Bureau.
AUTOS: Home development fuels addition; Alfa next?
Buongiorno, South Orange County!
Garth Hogan, Newmark Grubb Knight Frank's executive managing director of Global Healthcare Services;
Chase Bank is laying off 168 employees from its mortgage operations in Irvine by early March.
$10M Deal Includes 47,319-SF Office
A cofounder of apparel company Affliction Inc. has bought the Santa Ana building that holds the Observatory OC concert venue where he's an investor, as well as an adjacent office.
Activity in the low-rise office sector picked up in the fourth quarter, as the overall market recorded 47,341 square feet of positive net absorption. That was an improvement over the third quarter's negative absorption of 32,498 square feet.
Orange County homebuilders last year posted their best year for sales since 2004, buoyed by the opening of several masterplanned communities, as well as continued strong sales on the Irvine Ranch. Includes the 2014 OC's LARGEST HOMEBUILDERS list for download (pdf)
Christie's Partners With First Team Estates
Local luxury real estate firms hold strong to their view that coastal and luxury real estate are among the best investments available. International firms agree.
Big Deals for Notable Sites Reflect Confidence in Recovery
National builders have their eyes on Orange County again.
3 Builders Went Public, $670M in Proceeds to Spend
Wall Street cash is making its way back to Orange County's homebuilding industry after a brief hiatus.
The Inland Empire ended 2013 with increased gross industrial activity as it wrapped up the year with roughly 29.1 million square feet, up 2.6 million square feet from 2012.
February 24, 2014 midnight