Midday Stock Roundup
Monday, May 20, 2013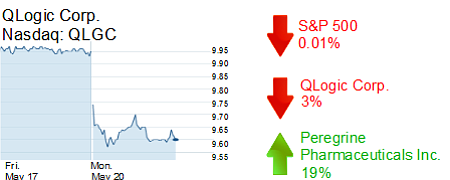 The S&P 500 fell 0.01% to 1,667.31 in afternoon trading Monday.
The Dow Jones industrial average was down 0.02% to 15,351.75, while the Nasdaq was down 0.10% to 3,495.38.
The yield on a 10-year Treasury bond rose 0.46% to 1.96%.
The price of gold was up 1.24% to $1,381.60 per ounce.
TECHNOLOGY
Aliso Viejo-based QLogic Corp.'s shares were off about 3% to $9.62 for a market value of $872.37 million. QLogic announced the resignation of President and Chief Executive Officer Simon Biddiscombe on Friday.
Shares of Newport Beach patent licensor Acacia Research Corp. rose about 4% to $24.58 after it announced two separate license and settlement agreements Monday. Acacia had a recent market value of $1.21 billion.
HEALTHCARE
Tustin drug developer Peregrine Pharmaceuticals Inc.'s shares were up about 19% to $1.83 after the company said it reached an agreement with the Food and Drug Administration on how a phase three trial of its lung cancer drug candidate bavituximab would be designed. Peregrine had a recent market value of $250.68 million.
RESTAURANTS
Shares of Huntington Beach-based BJ's Restaurants Inc. rose 2% to $38.28 after an Oppenheimer analyst reiterated his "outperform" rating on the company's stock and cited the company's growth prospects among other factors for increasing its price target from $38 to $43. BJ's had a recent market value of $1.08 billion.
OTHER
Irvine-based Meade Instruments Corp.'s shares shot up about 103% to $3.39 for a market value of $4.43 million. Meade, which makes telescopes and related accessories, said it has agreed to be acquired by JOC North America LLC for $4.5 million in all-cash deal expected to close by the end of July.