Midday Stock Roundup
Thursday, May 2, 2013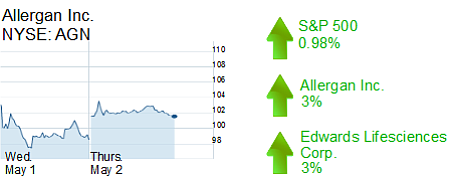 The S&P 500 rose 0.98% to 1,598.28 in afternoon trading Thursday.
The Dow Jones industrial average was up 0.83% to 14,822.57, while the Nasdaq was up 1.34% to 3,343.48.
The yield on a 10-year Treasury bond fell 0.43% to 1.63%.
The price of gold was up 1.64% to $1,470 per ounce.
HEALTHCARE
Irvine-based drug maker Allergan Inc.'s shares were up about 3% to $102.07, a day after the company closed down 12% on news that it would delay a late-stage trial of an eye drug currently in development. Allergan had a recent market value of $30.52 billion.
Irvine-based heart valve maker Edwards Lifesciences Corp. was up about 3% to $64.50 for a market value of $7.35 billion. Edwards' shares plummeted more than 20% last week after the company posted disappointing first-quarter results and cut its full-year outlook.
Shares of Anaheim drug maker Questcor Pharmaceuticals Inc. were up despite disappointing first-quarter results earlier this week. The company's shares rose about 9% to $34.48 for a market value of $1.98 billion. Analysts at Roth Capital said sales of Questcor's sole drug Acthar Gel are expected to grow and recently gave the stock a "buy" rating.
Irvine-based laser maker Newport Corp. slumped 9% to $13.35 after analysts at Needham lowered the company's rating from "buy" to "hold" following disappointing first-quarter results. Newport had a recent market value of $512.61 million.
TECHNOLOGY
Irvine-based disk drive maker Western Digital Corp. was up about 3% to $56.51, a day after rival Seagate Technology LLC of Cupertino reported better-than-expected quarterly results. Western Digital had a recent market value of $13.5 billion.
REAL ESTATE
Shares of Irvine-based Standard Pacific Homes rose about 4% to $9.34 for a market value of $3.24 billion. The homebuilder is expected to report first-quarter earnings after the market closes today.
Irvine-based real estate investor Sabra Health Care REIT Inc. was up about 4% to $30.74, a day after the company reported first-quarter results and announced a quarterly dividend. Sabra had a recent market value of $1.15 billion.