FOUNDER JUGGLED DUTIES ON WAY TO "SOMETHING MORE MEANINGFUL"
CiTrials' Winning Mix: Science, Patient Care
Sunday, March 31, 2013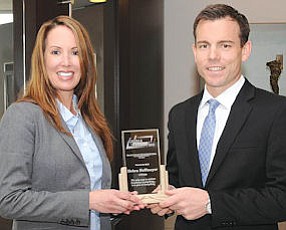 Debra Hoffmeyer's previous career stops in biotechnology research and neurocognitive testing came in handy when she decided to strike out on her own in 2001.
Hoffmeyer established CiTrials Inc. with a pair of contracts to conduct clinical trials for drugs under development.
"After working in both academic and private research for over 10 years, I felt that there was a gap between the two," Hoffmeyer said. "I wanted to form something more meaningful for both quality research and patient care. CiTrials' mission was to be the best at research and even better at patient care."
She also juggled multiple jobs during the early days of CiTrials, at one point teaching herself how to use bookkeeping software and taking on the accountant's role, and managing the company's invoicing.
The company now has five facilities across Southern California and 120 workers. It conducts first-to-fourth phase clinical trials for several multinational drug makers developing products to treat the central nervous system and internal disorders.
Hoffmeyer was one of five honorees at the Business Journal's 12th annual Excellence in Entrepreneurship Awards luncheon held March 20 at the Hyatt Regency Irvine.
Some Clients
CiTrials' client list includes representatives of Big Pharma, including Johnson & Johnson, Abbott Laboratories, GlaxoSmithKline PLC, Pfizer Inc. and Novartis AG.
CiTrials' psychiatric drug trials examine treatments for conditions like schizophrenia, bipolar disorder, generalized anxiety disorder, Alzheimer's disease and ADHD.
The company's trials for internal medicine include conditions such as migraine, hypertension, autism spectrum disorders, pharmacokinetics and diabetes.
"We are not all about test tubes and petri dishes," Hoffmeyer said. "My interest in neurocognitive functioning in the mental health population, combined with the good relationships I had developed with sponsors, gave me the confidence I needed to ... make my dream a reality."
CiTrials is what's known as a "clinical research organization," or contract research organizations.
Data from Frost & Sullivan, a San Antonio-based market researcher, show that the U.S. market for contract research organizations is estimated to reach $20.1 billion by 2017, up 76% from $11.4 billion in 2010.
There are a number of large contract research companies in the market, including Research Triangle Park, N.C.-based Quintiles Transnational Corp., which filed for an initial public offering in February, and Princeton, N.J.-based Covance Inc., which had a recent market value of about $4 billion.
CiTrials, which is privately held, doesn't disclose revenue.
Companies such as CiTrials have expanded in the past decade or so amid a push by drug and medical device makers to cut costs by farming out research.
Prev Next