Midday Stock Roundup
Thursday, March 28, 2013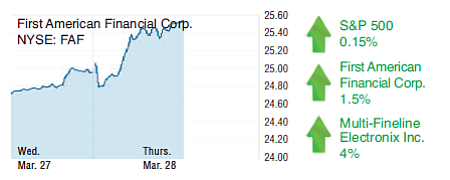 The S&P 500 was up 0.15% to 1,565.17 in afternoon trading Thursday.
The Dow Jones Industrial Average was up 0.22% to 14,558.79, while the Nasdaq was up 0.03% to 3,257.64.
The yield on a 10-year Treasury bond was up 0.43% to 1.86%.
The price of gold was down 0.65% to $1,595.80 an ounce.
Shares of Santa Ana-based title insurance company First American Financial Corp. were up about 1.5% to $25.35 and a market value of about $2.74 billion. The company yesterday announced that it has named Mark Oman, a former senior executive vice president of Wells Fargo's home and consumer finance group, to a new seat on its board.
Shares of Irvine-based printed circuit board maker Multi-Fineline Electronix Inc. were up about 4% to $15.20 and a market value of about $360.7 million. M-Flex counts Singapore-based conglomerate WBL Corp. as a shareholder. WBL's shares were up in Singapore on an increased takeover offer from United Engineers Ltd.