Midday Stock Roundup
Tuesday, March 26, 2013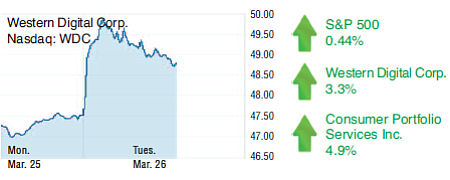 The S&P 500 was up 0.44% to 1,558.45 in afternoon trading Tuesday.
The Dow Jones Industrial Average was up 0.53% to 14,524.36, while the Nasdaq was up 0.21% to 3,242.10.
The yield on a 10-year Treasury bond was down 0.47% to 1.91%.
The price of gold was down 0.53% to $1,596.10 per ounce.
Shares of Irvine-based disk drive maker Western Digital Corp. were up 3.5% to $48.95 and a market value of about $11.8 billion. Western Digital and Cupertino-based competitor Seagate Technology were both up sharply on investors' confidence that continued demand for all types of data storage will keep their core lines strong as each company shifts into solid-state drives and other new areas.
Shares of Irvine-based subprime auto lender Consumer Portfolio Services Inc. were up nearly 5% to $10.85 and a market value of about $219 million.