Midday Stock Roundup
Wednesday, March 6, 2013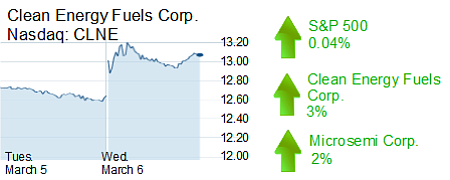 The S&P 500 rose 0.04% to 1,540.43 in afternoon trading Wednesday.
The Dow Jones Industrial Average was up 0.23% to 14,287.02, while the Nasdaq was down 0.11% to 3,220.45.
The yield on a 10-year treasury bond rose 2.22% to 1.94%.
The price of gold was up 0.26% to $1,578.70 per ounce.
Shares of Seal Beach-based Clean Energy Fuels Corp. rose 3% to $13.06 for a market value of $1.14 billion. Clean Energy is developing corridors of service stations for natural-gas vehicles on main interstate routes around the U.S. The Motley Fool website earlier this week cited its shares as a stock to watch because "the movement toward alternative energy is gaining momentum."
Aliso Viejo chipmaker Microsemi Corp. rose about 2% to $20.78 for a market value of $1.9 billion.