30 YEARS, MANY HATS AT PPS PARKING & TRANSPORTATION
Such a Career!
Sunday, June 16, 2013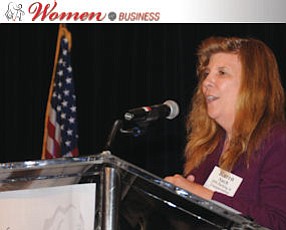 There's little that Karen Such hasn't done at PPS Parking & Transportation Inc. over the past 30 years.
She started as office manager in 1983, three years after Stephen Paliska founded Santa Ana-based PPS. She became revenue manager two years later and controller in 1990. Then came a promotion to director of performance management in 2000, and she became senior vice president of operations in 2006.
Growth
Such's career trajectory has been like the company's steady growth.
PPS started out providing parking services, with a Marriott hotel in Irvine as its first account.
It now offers a range of transportation services—from limo service to medical transportation, with high-end hotels, resorts, shopping malls, restaurants and hospitals on its client roster.
Privately held PPS doesn't provide financial data. The company employs between 180 and 250 workers, depending on the season.
Such was among five businesswomen honored at the Business Journal's 19th annual Women in Business Awards luncheon on June 4 at the Hyatt Regency Irvine (see related stories, pages 1, 4, 8 and 10).
"When we first started, between Stephen and myself, we wore a lot of hats," Such said. "It was a great time for us in the industry. It was the right time and the right place. That had a lot to do with our growth. We became predominant in the [parking-management] space in Orange County quickly. We then expanded to Los Angeles, Northern California and Arizona. We did that in the first 10 years, [and] we achieved triple-digit expansion."
Business grew, but so did competition, with companies such as Downey-based Parking Company of America in the mix.
That led PPS to branch into various transportation services.
"We've had the transportation part for about 15 years," Such said. "That has helped us even through the toughest times. There have been many competitors over the years, but … where we are today is primarily through the diversification. [The addition of] services is what provided us the edge."
PPS' parking-management services—including valet parking and self-parking lots—still make up the bulk of the company's business. Consulting for existing clients accounts for about 10% of revenue, and transportation services chip in with 30% to 35%.
PPS has a fleet of at least 50 sports utility vehicles, nine charter buses and a dozen vehicles that are in compliance with the Americans with Disabilities Act. Such estimated PPS makes an average of 400 transfers a day.
Prev Next