Midday Stock Roundup
Monday, January 14, 2013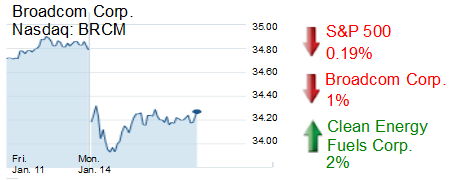 The S&P 500 was down 0.19% to 1,469 in midday trading Monday.
The Dow Jones Industrial Average was up 0.10% to 13,502, while the Nasdaq was down 0.42% to 3,112.
The yield on a 10-year treasury bond was off 0.96% to 1.86%.
The price of gold rose 0.49% to $1,669 per ounce.
Shares of Irvine-based chipmaker Broadcom Corp. were down about 1% to $34 for a market value of $19.3 billion. Cupertino-based Apple Inc., Broadcom's largest customer, cut back on components orders for its iPhone 5 in response to lower than expected demand for the phone, according to reports.
Seal Beach-based Clean Energy Fuels Corp. rose about 2% to $14 for a market value of $1.2 billion.