Midday Stock Roundup
Wednesday, February 27, 2013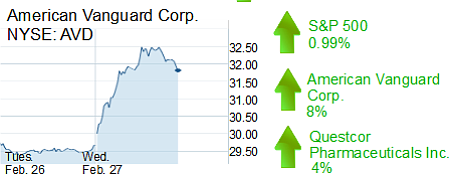 The S&P 500 rose 0.99% to 1,511.78 in afternoon trading Wednesday.
The Dow Jones Industrial Average was up 0.93% to 14,030, while the Nasdaq was up 0.99% to 3,161.
The yield on a 10-year treasury bond rose 0.11% to 1.88%.
The price of gold was off 1.16% to $1,596.80 per ounce.
Anaheim drug maker Questcor Pharmaceuticals Inc. rose about 4% to $33.91, a day after reporting better-than-expected results for the fourth quarter. Questcor had a recent market value of about $2 billion.
Shares of Newport Beach specialty chemicals maker American Vanguard Corp. were up about 8% to $32.11 for a market value of $901.82 million. American Vanguard is expected to report fourth-quarter results before the market opens Thursday.
Huntington Beach-based BJ's Restaurants Inc. was up about 3% to $31.38 and a market value of about $882 million. Darden Restaurants Inc., The Cheesecake Factory Inc. and other restaurant operators were generally up..
Irvine molecular diagnostics company CombiMatrix Corp. slumped about 20% to $3.93 after reporting losses for the fourth quarter and full year. The company had a recent market value of $4.25 million.