Bioshaft Lines Up Middle East Distributors
Wednesday, February 27, 2013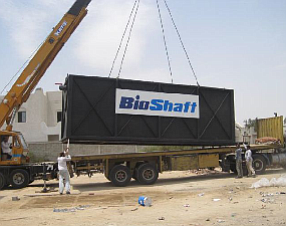 Lake Forest-based Bioshaft Water Technology Inc. has signed three contracts with distributors in the Middle East, boosting the company's presence in a region it has targeted in its bid for international growth.
Bioshaft designs and manufactures wastewater treatment plants for municipalities and land developers. It also installs its systems for homes and private enterprises, including resorts and restaurants.
The six-year-old company also has offices in Florida and Saudi Arabia.
Among Bioshaft's new Middle Eastern distributors is Jeddah, Saudi Arabia-based Water Masters, which plans to provide a sewage treatment system for the 42-story Jawhara Damac Towers. The system is expected to handle about 105,680 gallons of wastewater per day. The others are the Makkah Chamber of Commerce in Makkah, Saudi Arabia, and industrial chemical maker Protec in Alexandria, Egypt, which will use Bioshaft's products to treat nearly 8,000 gallons of domestic wastewater per day at one of its facilities.
The company has other ongoing projects in the region, including a domestic wastewater treatment plant for the Ministry of Defense in Saudi Arabia.
Bioshaft also recently signed a contract with a brewery in New York. The system will treat about 75,000 gallons of wastewater a day, helping the brewery meet local sewer requirements and produce energy from the water.
Bioshaft saw roughly $640,000 in revenue for the most recent fiscal year through April, compared with a year-earlier total of $16,000. The company lost $3.9 million for the recent 12-month period, compared with $792,623 in the red a year prior.