National Geographic Taps OC Scouts for Reality Show
Tuesday, February 26, 2013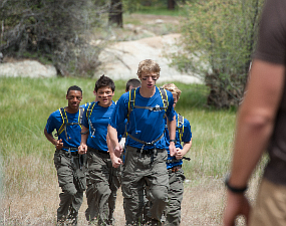 Four Orange County Boy Scouts will be featured in a new National Geographic Channel reality-television series, titled "Are You Tougher than a Boy Scout?"
The six-episode program is set to debut on March 4. It features three adults in competition against a team of Boy Scouts in a number of challenges. The "tougher than a Boy Scout" challenge will come in various situations, including crossing a river on a commando line and shooting musket rifles.
Robert Nelsen, a Tustin High School junior and resident of Irvine, is one of the two Boy Scouts who are featured in all six segments of the program. Rob is the first Boy Scout in the U.S. to earn the Welding Merit Badge, according to National Geographic.
Bobby LeFevre and Garret Rios, both from Huntington Beach, along with Brenan Corbin, a senior at Corona del Mar High School, also are featured in the National Geographic show.
The TV series was produced by Burbank-based Original Productions LLC.