GLENNWOOD HOUSE TAKES SHAPE IN LAGUNA BEACH
Special Place for Special Needs
Sunday, February 24, 2013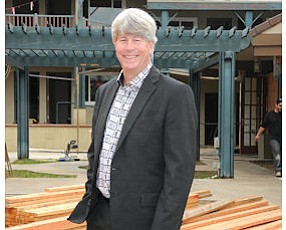 Henrikson has an 18-year-old son with learning disabilities and autistic tendencies.
"It's personal for me," he said.
Some of the board members have children with developmental disabilities. Each board member brings a needed skill to the project.
Marc Hoffman, chief operating officer of Aliso Viejo-based Sunstone Hotel Investors Inc., a real estate investment trust, brings expertise in lodging operations.
Glennwood House will essentially operate like a hotel, with housekeeping service and a full-time chef.
Most board members have been hands-on, investing money and sweat equity.
Trevor
Larson and his wife, Ginny, are parents to Trevor, who is the inspiration for Glennwood House, which is for adults ages 18 to 45.
Trevor, who will be 30 in March, has Down syndrome, but he can read, write and cook. That makes him a perfect candidate for Glennwood House.
It will be Trevor's residence as well as the home of a total of 50 people who need some help due to a disease, disorder or medical condition, such as cerebral palsy or autism.
The residential community is expected to be the first of its kind in the state.
Most special-needs housing are 1960s box houses that charge $3,000 a month, Larson said.
Glennwood House will cost residents $2,500 a month for a single room and $1,900 for a shared room. The fee includes rent, food, transportation and assisted-living care.
Larson hopes to eventually establish a $1 million endowment for families with financial hardship.
Glennwood House could be a national blueprint for special-needs housing if all goes as planned.
Larson said the need for this kind of housing is expected to rise significantly in the future with an uptick in the number of children diagnosed with autism.
Glennwood House evolved from Larson's lifelong journey with his son, which began with youth sports.
About 25 years ago, when Trevor was 5, Larson founded an American Youth Soccer league for kids with various disabilities.
Larson, who played sports when he was in school, wanted the same for Trevor and other kids as well.
Larson recruited 15 kids to start and fellow parents, including Glennwood board member Maarten Voogd, president of Lake Forest-based Water Ventures Inc., a company that specializes in the design and construction of water parks and leisure developments.
Larson served as director, coach and referee in the early years. Today the league has grown to 400 kids in South County.
The tight-knit group of parents watched their children play sports and grow into young adults, and they arrived at another phase: How could they offer their kids opportunities to socialize after their high school years? Larson had an answer.