REAL ESTATE: PAST YEAR SAW TWO BIGGEST PROJECTS IN OC HISTORY
California Pacific's New Rank Applies to Apartments
Sunday, February 24, 2013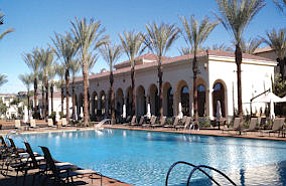 The busiest residential builder in Orange County over the past year didn't report selling a single home in 2012.
That's no worry for Irvine-based California Pacific Homes Inc., which has reinvented itself in the wake of the recession to become one of the area's busiest general contractors.
The company spent much of last year focused on the hot market for apartments.
Its latest work will go on display next week, when Newport Beach-based Irvine Company holds the grand opening of Los Olivos, a high-end apartment complex on a site that formerly held the Wild Rivers Waterpark in the Irvine Spectrum.
Los Olivos will have 1,750 units when fully built, making it the largest apartment project in Orange County's history. That will eclipse another project that counted California Pacific as general contractor: the 1,677-unit Cypress Village complex that Irvine Co. opened last year along the Santa Ana (I-5) Freeway and Jeffrey Road.
The first 200 apartments built by California Pacific at Los Olivos—a mix of one- and two-bedroom units, including some with a townhome design that's new for Irvine Co.—are now complete and ready for leasing. The rest are slated to open in phases through next year.
Adds Up
California Pacific's work on Cypress Village and the apartments completed so far at Los Olivos appear to match the combined work of the area's largest homebuilders over the same time on a unit basis.
The 26 largest homebuilders sold a total of 1,821 new homes in Orange County last year, a 3% increase from a year ago, according to this week's Business Journal list (see story, page 27).
California Pacific didn't make this week's list this year after taking the No.7 spot last year with the sale of 99 homes in 2011, according to data from the Costa Mesa office of Washington, D.C.-based real estate research firm Hanley Wood LLC.
The list only includes sales of homes and condos. Dozens of new apartment projects in Orange County have opened up, or begun development in earnest over the past year, according to Business Journal data.
California Pacific didn't have any home sales directly tied to its name last year, but it still has a hand in the segment, acting as a general contractor for Irvine Pacific LP, according to sources.
Irvine Pacific
Irvine Pacific, the in-house homebuilding division of Irvine Co., led all local builders with 439 sales in OC last year, more than the next three largest builders' combined sales, Hanley Wood's data shows.
Prev Next