Newport Corp. Shares Jump
Thursday, February 21, 2013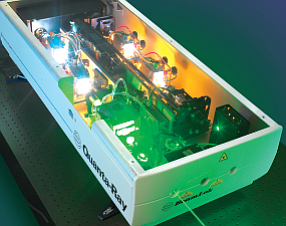 Shares of laser maker Newport Corp. continued to surge Thursday, a day after the Irvine-based company announced adjusted profits that widely beat Wall Street expectations.
Shares were up 8.6% in afternoon trading to a market value of $612.9 million.
The company on Wednesday reported adjusted profits of $14.3 million, beating analyst expectations of $7.6 million.
The company had revenue of $141.6 million, down 12% from a year earlier and slightly below Wall Street estimates of $143.4 million.
Newport makes lasers and related controls for telecommunications, chipmakers, researchers, medical companies and manufacturers.
The company on Thursday also gained a nod from analysts at Stifel Nicolaus, who said its product portfolio is "strong" and customer sentiment is improving.
The investment firm maintained its "buy" rating on Newport.
The company posted sales of $595.3 million in 2012, up 9.2% from 2011.
Adjusted profits eclipsed $51.6 million, down 18.9%.