REAL ESTATE: WILL GET SIGNS ON METROCENTER, XEROX CENTRE
Stearns Goes for Top Billing on 2 Leases
Sunday, February 17, 2013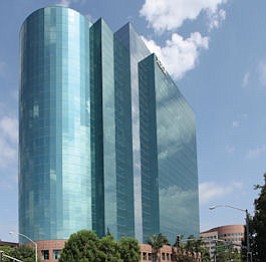 Different divisions of Stearns Lending will be at each of the three locations, according to McNutt.
Parent Stearns Corp.'s operations include several services in addition to its core lending division, including Stearns Wholesale, TriVerify and CU Partners.
The company isn't counting out taking more space at its existing 4 Hutton Centre headquarters going forward if it sees further expansion or other developments, McNutt said.
The 215,290-square-foot building, which was bought for $37 million in 2011 by a China-based investment group, counts its share of empty space. CoStar lists the building as being about half-full.
Stearns Lending's growth during a record-breaking 2012 year suggests the company could need more office space if trends continue.
New Marks
The company, founded in 1989 by Glenn Stearns, said it set new marks last year by funding nearly 49,000 loans for $11.8 billion. This was a 107% increase in volume from 2011 levels, when the company ranked as the fifth-largest residential lender by wholesale volume.
Monthly loans at Stearns Lending fell to a low of $14 million near the nadir of the last mortgage crash in 2007.
Aggressive cuts in expenses and personnel, along with a decision to shut down the company's option adjustable rate mortgage division just before that sector's crash, helped keep the company afloat when many of its competitors failed.
Efficiencies gained through technology, and a more-nimble operation than some of its larger competitors, appear to have helped the company gain market share amid the rebounds of the mortgage and housing industries.
"When the big guys get backed up, they have a tendency to raise their price, to slow down volume," Chief Executive Brian Hale told Reuters earlier this month. "That gives other lenders an opportunity, because the consumer thinks, 'Why would I pay an extra $100 a month.' "
RREEF, owner of MetroCenter at South Coast, was represented by Brian Harnetiaux of Transwestern in the new lease with Stearns Lending.
1851 East First Street Investors LLC, owner of the Xerox Centre, was represented by Justin Hill, Simon Dillon and Mark Friend of CBRE Group Inc.
Prev Next