CalWest Bancorp Posts Loss for Q4, Full Year
Monday, February 11, 2013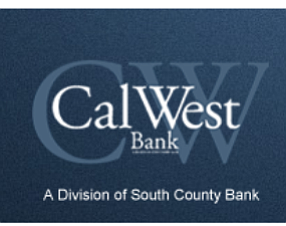 Rancho Santa Margarita-based CalWest Bancorp posted a fourth-quarter loss of $1.5 million and $2.1 million in red ink for all of 2012.
The holding company of South County Bank N.A. saw net interest income fall by about 8% last year to $4.3 million.
Noninterest income for the year was down about 12% to $1.8 million.
Assets totaled $150.6 million at the end of December, up 3.4% compared with a year earlier.
Deposits at the end of the year totaled $141.4 million, up 5.7% year-over-year.
The bank had $64.8 million worth of loans at the end of December, down about 19% from a year earlier. It saw a significant drop in the total value of non-performing loans for the year, from $9.1 million to $6.9 million.
The decline in its total loan volume took the percentage of non-performing loans at 10.6%. The bank put $1.1 million toward provisions for loan losses in the fourth quarter, and $1.9 million for the full year. It had about $200,000 set aside as provisions for loan losses a year earlier.
"While disappointed with the results in the second half of the year, it was a period requiring difficult and unpleasant decisions that we believe ultimately improves the bank's position going forward," said Chief Executive Glenn Gray. "Although it is challenging to predict the exact performance of a loan portfolio, at this time management believes the allowance for loan losses is adequate. During this coming year we will continue to focus on reducing non-performing loans while adding to our staff to generate organic loan and deposit growth."