NONPROFIT'S "DARING" MISSION MAKES CFO A BELIEVER
From Interim to Into It
Saturday, February 9, 2013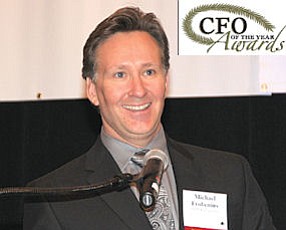 Evaluation data involving Academic Performance Index scores for Think Together participants in the Santa Ana Unified School District show that the API score climbed 27% between 2002 and 2010, from 570 to 723. The increase for participants in the Baldwin Park Unified School District was about 25% to 735.
A roster of business partners who have consistently lent support includes Irvine-based Western Digital Corp., Pacific Life Foundation in Newport Beach and Broadcom Corp. in Irvine.
Think Together also has individual and family supporters who help fund their education initiatives.
"We raise $5 million to $6 million a year in philanthropy," Frobenius said. "That private philanthropy really improves the program quality. Donald Bren of the Irvine Company has been our largest private [philanthropist] over the years. They've been a huge partner."
Frobenius plays a key role when it comes to lining up support. He recently oversaw an agreement with the Children & Families Commission of Orange County that allowed the nonprofit to move into a new headquarters, which it will eventually own after fulfilling a 10-year service agreement.
"The commission oversees the Proposition 10 cigarette-tax dollars collected in California … [which are] distributed to counties by birthrates," Frobenius said. "And a big chunk of that goes toward early-childhood initiatives. But with the cigarette and tobacco consumption on the decline, and this tax revenue certainly projected to decrease, the local commission [was] looking to figure out a way to deal with that and secure funding for the long term."
The conclusion was to invest $5 million into Think Together to "front the money to buy us a building," which will save the nonprofit about $750,000 annually in rent, Frobenius said.
"We'll be able to funnel the savings dollar for dollar into the programs," he said. "The commission is seeing the services continue for another 10 years for less money than they would've otherwise spent."
Think Together's key objective is to close the "achievement gap," what Frobenius defines as "a tremendous disparity in the education outcomes between the haves and have-nots."
The job has become more than grades and exam scores for Frobenius.
"For me, it's personal," he said. "I've got three young kids. I'm well aware of all the support they have gotten. But when you consider … the upbringing and environment [for] so many others, particularly in the Latino population in California, where English is not the first language, you can see what an uphill battle they've got."
Prev Next