NONPROFIT'S "DARING" MISSION MAKES CFO A BELIEVER
From Interim to Into It
Saturday, February 9, 2013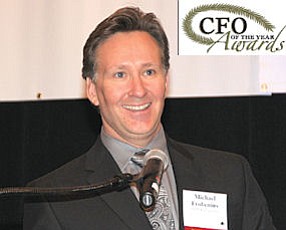 "Daring" is a fitting description of the leadership team that took Think Together from a relatively small youth-education program in Santa Ana to become the largest provider of Extended Learning Time programs in the state, according to Michael Frobenius, the nonprofit's chief financial officer.
Santa Ana-based Think Together provides out-of-school academic programs for students living in "underresourced communities." It currently has about $61 million in annual revenue, 2,500 employees, and 400 teaching sites for some 150,000 children statewide.
Smaller Numbers
Those numbers were far smaller when Frobenius joined the organization in 2007.
Revenue was about $13 million, and it had less than 100 employees. Think Together reached about 2,000 youngsters at 25 locations.
"Scaling up" came fast and required resources and resolve, according to Frobenius, who was honored in the Not-for-Profit Organization category at the annual CFO of the Year Awards presented on Jan. 29 by the Business Journal and the California Society of Certified Public Accountants.
Think Together, founded in 1997 by Chief Executive Randy Barth, had grown steadily during its early years, forming partnerships with a couple of school districts in Orange County. But a major growth spurt came in 2007 when California rolled out new after-school education grants under Proposition 49, which provided $550 million a year in funding for such programs.
That's also when Frobenius joined Think Together, after wrapping up a nine-year stint as director of finance at Los Angeles Chemical Co. in South Gate. He heard about Think Together from Mike Kelly at Irvine-based advisory and outsourcing firm Beacon Resources, who put him in contact with Barth, who was looking for an interim CFO.
"It turned out to be not-so-interim," Frobenius said. "I thought it was going to be a two-to-three-month role, but it was a great, exciting time to come on board."
Risk-taking was part of his job from the start.
Think Together within months opened 150 new locations across 19 school districts in Los Angeles, Riverside and San Bernardino counties, and it added about 100 hires.
"It really took some risk," Frobenius said. "Most programs are run on a smaller scale. But Randy and the board crafted a vision, and a key element was to take it to scale so that you can gain some efficiencies and economies of scale. It's a great idea, not an easy thing to pull off."
Academic Performance
Think Together has been measuring the outcomes of its students over the years, noting "significant improvements in the students' average academic performance on tests administered by the state," according to Frobenius.
Prev Next