Midday Stock Roundup
Wednesday, February 6, 2013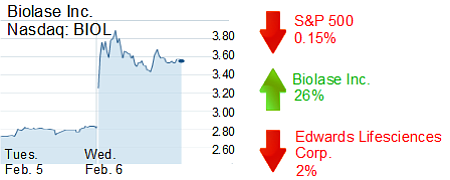 The S&P 500 fell 0.15% to 1,509 in midday trading Wednesday.
The Dow Jones Industrial Average was off 0.10% to 13,966, while the Nasdaq was down 0.23% to 3,164.
The yield on a 10-year treasury bond fell 2.03% to 1.97%.
The price of gold rose 0.26% to $1,678 per ounce.
Shares of Irvine-based Biolase Inc. jumped about 26% to $4 for a market value of $110.7 million. The company announced approval from the Food and Drug Administration on its 940 nm Diolase 10 diode soft tissue laser for use with more than 80 different procedures in the dermatology, ear, nose and throat markets among others.
Irvine heart valve maker Edwards Lifesciences Corp. continued to slide for the second day in a row. The company's shares were down about 2% to $85 in afternoon trading Wednesday after closing down about 4%. The fall comes amid analyst concerns over the company's jump in transcatheter valves during the fourth quarter came as customers stocked up on the devices, a trend that could cause a slowdown in sales during the second half of the year. Edwards had a recent market value of $9.7 billion.
Newport Beach patent licensing company Acacia Research Corp. rose about 4% to $27 for a market value of $1.4 billion.
Huntington Beach-based BJ's Restaurants Inc.'s shares were up about 3% to $33 for a market value of $916.9 million. Restaurant operators were generally up in afternoon trading.