LOCAL VETS, EAST COAST BACKER SEE STRONG START ON NYSE
Recovery Finds Buyers With Tri Pointe IPO
Saturday, February 2, 2013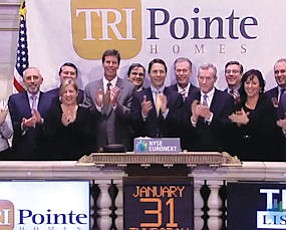 Southern California's housing market might not be back to prerecession peaks, but investor interest in the region's homebuilders is riding high on last week's initial public offering for Tri Pointe Homes Inc.
The Irvine-based builder raised about $233 million in the well-received IPO, which came on Jan. 31 and gained plenty of national exposure for its rarity.
It's been nearly eight years since a U.S. homebuilder went public.
"It's a historic event for myself, and my two partners," said Chief Executive Doug Bauer, who founded the company in 2009, along with President Tom Mitchell and Chief Financial Officer Mike Grubbs.
All three are former executives of Newport Beach-based William Lyon Homes, which has seen its share of challenges resulting from the housing downturn, including a short stint in bankruptcy last year.
Another reminder of the recent downturn can be seen in Tri Pointe's headquarters at the Scholle Center office campus on Jamboree Road. The building once held the headquarters of John Laing Homes, which was among the more prominent builders in the country that went bust during the market's nadir.
Now there are encouraging signs of a sustained turnaround in the market, according to Bauer, who made an appearance on CNBC as Tri Pointe's stock began trading on the New York Stock Exchange under the "TPH" ticker.
"The California markets are definitely in the first inning of a recovery," said Bauer, whose company also builds homes in Colorado.
"We saw last year the improvement in the market—the traffic and the conversion had been very strong, and it (has) continued into the first four weeks of this year," he said.
Investors appear to agree.
Tri Pointe initially registered to go public in late December, estimating it would raise about $172.5 million. Interest in the stock prompted the company to increase the size of the offering in the days leading up to the IPO.
Shares were ultimately priced at $17, above the marketed range of $14 to $16.
They closed their first day of trading at about $19, giving it a market value of about $600 million.
In comparison, Irvine-based Standard Pacific Corp., OC's only other publicly traded home builder, counts a market value of about $3 billion, factoring in preferred shares.
Tri Pointe Homes Inc.
• Headquarters: Irvine
• Business: Homebuilder
• Founded: 2009
• Ticker symbol: TPH (NYSE)
• Market value: About $600 million
• Notable: IPO on Jan. 31; shares rose more than 10% in first day of trading
Prev Next