Midday Stock Roundup
Tuesday, April 30, 2013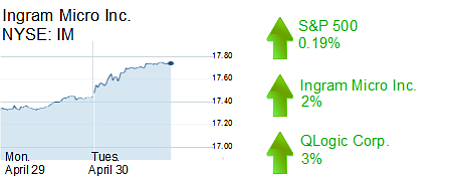 The S&P 500 rose 0.19% to 1,596.71 in midday trading Tuesday.
The Dow Jones industrial average was up 0.07% to 14,828.51, while the Nasdaq was up 0.58% to 3,326.23.
The yield on a 10-year Treasury bond was flat at 1.67%.
The price of gold rose 0.31% to $1,471.90 per ounce.
TECHNOLOGY
Santa Ana-based Ingram Micro Inc.'s shares rose about 2% to $17.74 for a market value of $2.74 billion. The company, which is the world's largest technology distributor, announced an expanded memory products line with new flash drives and memory cards.
Aliso Viejo-based networking-equipment maker QLogic Corp. was up about 3% to $10.91 for a market value of $989 million. QLogic announced the appointment of Christine King to a newly added eighth seat on its board of directors. King is the former chief executive of Standard Microsystems and AMI Semiconductor Inc.
REAL ESTATE
Irvine-based real estate investor Sabra Health Care REIT Inc. was up about 3% to $29.85, amid a general uptick for real estate investment trusts. Sabra had a recent market value of $1.11 billion.
APPAREL
Shares of Huntington Beach-based Quiksilver Inc. were up about 5% to $6.80 for a market value of $1.13 billion. The company said in a filing with the Securities and Exchange Commission last week that it added a ninth seat to its board of directors. Michael Clarke, former chief executive of UK food company Premier Foods Plc, was appointed to fill the new seat.