Midday Stock Roundup
Wednesday, April 24, 2013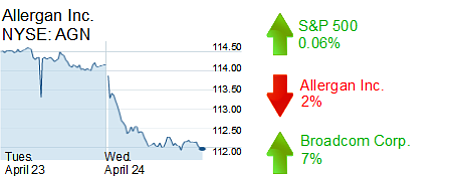 The S&P 500 rose 0.06% to 1,579.70 in midday trading Wednesday.
The Dow Jones industrial average was down 0.16% to 14,695.31, while the Nasdaq was off 0.06% to 3,267.41.
The yield on a 10-year Treasury bond was up 0.41% to 1.70%.
The price of gold rose 0.86% to 1,420.80 per ounce.
HEALTHCARE
Irvine drug maker Allergan Inc.'s shares fell about 2% to $112.20 after a UK review urged greater regulation on fillers and other cosmetic treatments. Allergan, with a recent market value of $33.39 billion, issued a statement Wednesday saying it "welcomes" many of the panel's recommendations and reiterated that its own fillers Juvederm and Surgiderm adhere to European regulations.
Irvine heart valve maker Edwards Lifesciences Corp.'s shares plunged about 23% to $63.84, a day after announcing first-quarter results that missed analysts' estimates and a lowered outlook for the current quarter. Edwards had a recent market value of $7.28 billion.
TECHNOLOGY
Broadcom Corp. shares rose about 7% to $35.40 for a recent market value of $20.02 billion. The company reported a better-than-expected revenue outlook for the current quarter and beat consensus estimates for its first-quarter.
MANUFACTURING
Foothill Ranch-based specialty aluminum products maker Kaiser Aluminum Corp. jumped about 9% to $64.61, after beating Wall Street expectations on its first-quarter profit. Kaiser Aluminum, which had a recent market value of $1.23 billion, also announced a $75 million share repurchase program and $100 million in capital improvement projects.
REAL ESTATE
Irvine real estate investor Sabra Health Care REIT Inc.'s shares fell about 5% to $29.20 after New York investment banking firm Jefferies LLC downgraded the company's stock from "buy" to "hold." Sabra had a recent market value of $1.09 billion.