NGUYEN SIBLINGS MAKE GOOD ON PARENTS' VISION
Nailed It!
Saturday, November 17, 2012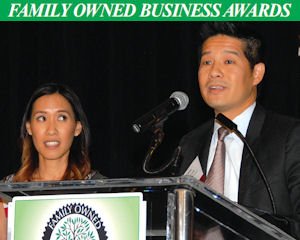 Linh Nguyen said a commitment to giving back to the community also has been a key to the company's growth. That includes donated services and sponsorships at community events, and free services to beauty pageant contestants, Girl Scouts and other community groups.
"We're huge on community involvement," said Linh Nguyen, who links such efforts directly back to the business.
"We have an 80 to 90% referral rate," she said.
Tam Nguyen is active with several industry and community groups. He serves on a handful of boards, including Cal State Fullerton's Alumni Association and the Mihaylo College of Business and Economics' Executive Council. He has also served as president of the Vietnamese American Chamber of Commerce since 2009.
Family ties count the most with the Nguyens.
"We wouldn't be nearly as close today otherwise," Linh Nguyen said.
Both she and her brother are married and each have three children.
"Our kids stop by often, and we wouldn't mind having them join us in business someday," Tam Nguyen said.
Parents
Their own parents had different ideas for their son.
"My mom was disappointed when I chose to get my MBA instead of pursue my medical residency, but business is where I belong," Tam Nguyen said. "Society gets caught up in titles and salaries, but there's something called happiness and doing what you love."
Tam said the decision to walk away from medicine was worth it because he still helps people—but on a larger scale.
"I get to help thousands of people get an education versus one person at a time as a doctor," he said.
The Nguyen siblings credit their parents for teaching them principles of hard work and passion for the business.
The transition from parent to child was a difficult one, Tam Nguyen said, because the business was "like their third baby."
The Nguyens are happy to have the support and approval of their parents.
"They didn't know what to expect, but now our parents will say to others that we run the business even better than they did," he said (see related OC Insider item, page 3).
Prev Next