IRVINE COMPANY BUY OF SAN JOSE OFFICE COMPLEX FROM LBA PUTS NORCAL PORTFOLIO NEAR 3 MILLION SF
Piece in the Valley
Saturday, June 30, 2012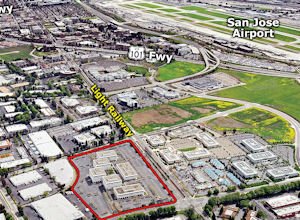 Irvine Co. has snapped up a six-building Silicon Valley office complex in what looks to be the Newport Beach-based company's largest acquisition of the year.
The real estate investor and developer recently closed on the purchase of the Silicon Valley Center in San Jose, a 439,000-square-foot office complex less than a mile from the city's airport.
The multitenant office campus includes buildings running between three and five stories, with the largest totaling about 80,000 square feet.
The 19-acre San Jose campus was sold by another Orange County real estate investor, Irvine-based LBA Realty. Terms of the sale were not disclosed.
The Silicon Valley office market has been booming lately, and the building likely traded for close to $130 million, or about $300 per square foot, according to real estate sources.
That price would put it among the top three office sales seen in the Silicon Valley so far this year, according to brokerage data.
It also appears to be the largest office-related purchase by privately held Irvine Co. since it bought another Silicon Valley office campus late last year, the eight-building Central Research Park in Sunnyvale.
468,000 SF
The 468,000-square-foot Sunnyvale campus, located about 8 miles from the Silicon Valley Center, traded hands last October for $132 million, or about $282 per square foot, according to local reports.
The San Jose deal marks the latest sizable Irvine Co. investment in the Silicon Valley, its third-largest office market after Orange County and San Diego.
The company has long been OC's dominant office landlord, with about 30 million square feet of commercial space here. It now owns close to 3 million square feet of office space in Silicon Valley, with properties in Sunnyvale, San Jose, Milpitas and Santa Clara.
The latest purchase "strengthens our relationship with California tech companies," said Irvine Co. Office Properties President Doug Holte.
Irvine Co. is also pushing development in Silicon Valley, where the office market has grown tight thanks to its cluster of high-tech tenants.
The company is moving ahead on the first phase of a six-building, 900,000-square-foot office campus planned in Santa Clara.
The first phase of the speculative office development, called Santa Clara Gateway, will hold three five-story buildings totaling about 447,000 square feet. Those offices are due to come online in mid-2013, and the project already has one or more large tenants lined up as likely users, according to sources.
Irvine Co. executives said the company is in the "advanced stages" of planning for the development of the final phase of the Santa Clara Gateway project.
Prev Next