REAL ESTATE: COMPLEX TOPS $400,000 PER UNIT, AMONG BEST PRICES IN 2012 FOR SIZABLE DEVELOPMENTS
Sale in Tustin Raises Bar for Apartments
Saturday, December 29, 2012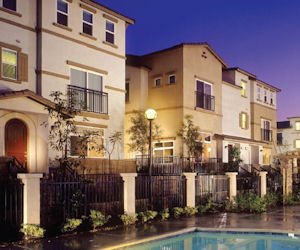 Orange County's red-hot sales market for apartments has extended to Tustin, where a new complex has sold at one of the higher per-unit prices seen in the region of late.
San Mateo-based JB Matteson, a real estate developer and investor, recently closed on the purchase of Tustin Cottages, a 93-unit apartment property just off Red Hill Avenue and the Santa Ana (I-5) Freeway.
The property, which opened in 2011, sold for $37.9 million, or a little more than $407,000 per unit.
Tustin Cottages is believed to be the largest apartment complex in OC to have traded hands this year at a price of more than $400,000 per unit, according to brokerage data.
Other larger, high-end complexes across the county have been selling more than $100,000 per unit below that level.
Club Laguna
Club Laguna, a 421-unit complex in Laguna Beach that traded hands in October for a reported $121 million, was the most expensive apartment complex sale in terms of total price in OC. The Club Laguna sale came to about $287,000 per unit, well below the Tustin project's per-unit price.
Part of Tustin Cottages' sky-high per-unit price stems from its size.
The residences, located at 1361 El Camino Real, average about 1,647 square feet per unit—larger than the area's typical apartment units. Each apartment has at least three bedrooms along with direct access to a two-car garage, according to marketing materials for the property.
The 153,169-square-foot property includes 24 three- and four-story buildings. The complex is about 92% occupied.
The property was built and sold by Arcadia-based Nevis Homes.
A unit of Nevis Homes paid a reported $15 million for the Tustin Cottages property in 2004, which at the time included 65 apartments.
The builder razed the existing units, and initially eyed the site as a condominium redevelopment, but later switched to apartments.
Tustin Cottages was the first new apartment complex to open in Tustin in nearly 15 years, according to Joe Leon, managing director for the Irvine office of Jones Lang LaSalle. Leon worked on the sale with colleague Javier Rivera.
In the Works
Among other new area projects now in the works is a pair of apartment projects being developed in part by Newport Beach-based Irvine Company; the projects are expected to see early development work start next year at the city's Tustin Legacy site.
The Tustin Cottages acquisition is JB Matteson's second apartment property in Orange County. The company owns nearly 3 million square feet of commercial properties across the western U.S., according to CoStar Group Inc. data.
Prev Next