DEALS, DEPARTURES, RETIREMENTS CHANGE LOCAL LINEUP
2012 YEAR in Review
Saturday, December 1, 2012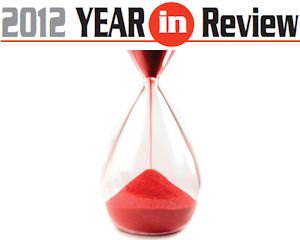 Get your scorecards out as you get ready to close the books on 2012.
Orange County's business scene saw a number of big deals, several high-level retirements, and various other corner office departures—some planned, some not.
Keep those scorecards handy. The effects of new ownership will settle in on several companies here in 2013, and there are a still a few top jobs to fill on the local business landscape.
You'll find recaps of the business persons and companies we identified as particularly watchable for 2012 starting on page 6 in this issue. Most lived up to the billing in one way or another—and there was no shortage of action elsewhere over the past year.
Orange County-based companies were the buyers in a couple of large deals.
Irvine-based disk-drive maker Western Digital Corp. managed to clear regulatory hurdles in markets around the globe to complete its $4.3 billion buy of Hitachi Global Storage Technologies Ltd.
Santa Ana-based Ingram Micro Inc. paid $840 million—the priciest deal ever for the company—to get BrightPoint Inc. in Indianapolis. Ingram Micro is world's largest technology distributor, while BrightPoint is among the biggest wireless device distributors.
Local sellers included Aliso Viejo-based Quest Software, which touched off an auction when it went on the market and ended up selling to Dell Inc. in Round Rock, Texas, for $2.4 billion. Quest Chairman and Chief Executive Vincent "Vinny" Smith is expected to part ways with the company after a brief stretch of consulting.
Stanley Black & Decker Inc.'s Hardware & Home Improvement Group in Lake Forest, where about 400 employees work on design and marketing, was acquired by Madison, Wis.-based Spectrum Brands Holdings Inc. for $1.4 billion. It is expected to operate as a separate unit within Spectrum Brands.
San Clemente-based Cameron Health Inc., which makes heart defibrillators, sold to Boston Scientific Corp. in Nattick, Mass., in a deal that could be worth more than $1 billion if certain incentives are met. There are no plans to shift Cameron's operations out of OC, and Kevin Hykes remains in charge of the unit under Boston Scientific's ownership.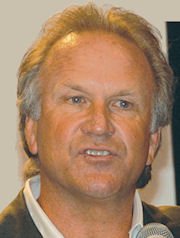 Joel Moskowitz struck a deal for Costa Mesa-based Ceradyne Inc., which makes ceramic-based armor and other products. Ceradyne has an $860 million sale to 3M Co. in St. Paul, Minn., pending.
Restaurant Sale
Steele Platt became an entrepreneur-without-portfolio when the Irvine-based restaurant chain Yard House sold to Darden Restaurants Inc. in Florida for $585 million. Platt founded the chain and owned about 25% when private equity firm TSG Consumer Partners LLC of San Francisco bought it in 2007. He had a 10% stake by the time of sale to Darden, which also owns the Red Lobster and Olive Garden chains, along with Capital Grille and Seasons 52.
Prev Next