GOOGLE EXEC, MAKARECHIAN, OTHERS PUSH ISSUES AT GEN NEXT
Big Picture
Sunday, May 29, 2011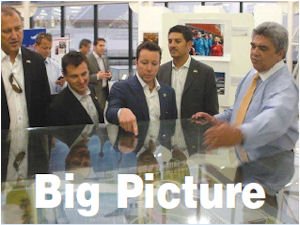 Jared Cohen, director of Google Ideas—a global issues think tank for Mountain View-based Google Inc.—got hooked on Gen Next after speaking to the Newport Beach-based issues group in 2008.
Now he's one member of a group of young, well-to-do executives—some part of prominent families in the county—who pay $10,000 a year to be members of Gen Next.
Gen Next is a hands-on group with a national and global bent. It works on and funds projects in education, security and economics.
Google's Cohen and two other Gen Next members even founded an offshoot, New York-based Movements.org. The nonprofit helps support young online activists across the globe.
"We are looking to be a catalyst for change," said Paul Makarechian, chief executive of Newport Beach-based Makar Properties LLC and founder of Gen Next.
The group looks to seed ideas or generate national attention for projects or causes Makarechian said.
Gen Next gives "members the opportunity to be consequential," said Dan McClory, managing director of Irvine-based Hunter Wise Financial Group LLC, an investment bank focused on midsize companies. "The common bond of the network is that, like me, these are extremely busy people who want to leverage the talent they have."
Gen Next has five chapters, including ones in Seattle and Los Angeles.
The founding Orange County chapter is the largest with more than 60 members.
Gen Next has about 150 members in all.
The nonprofit is made up of business owners and executives mostly in their 30s and 40s. There are older members, including Paul's father, Hadi Makarechian, a homebuilder and developer.
"We call it a psychographic—not a demographic," said Michael Davidson, chief executive of Gen Next. "We try to find high energy people who want to shape the world."
Some local members: Alex Bathal, co-president of Tustin's Raj Manufacturing LLC; Bill Lyon, chief operating officer of Newport Beach-based William Lyon Homes Inc.; Shawn Baldwin, partner in Newport Beach's Sunrise Co.; and Autumn Strier, president and cofounder of Irvine-based nonprofit Miracles for Kids.
Invitation Only
Membership is by invitation only.
Two members have to nominate a prospective member, according to Davidson. Then the majority must agree on the member.
Investment banker McClory is a newer member.
He had been eyeing the group but said he was reluctant to join, thinking it might be just another time zapper.
"As I look at it now, it helps me leverage my time," he said. "It can help act as a filter for all kinds of content, education material, charitable causes and extracurricular involvements."
Prev Next